Now you can also buy vintage luxury accessories on Amazon
How the e-commerce giant circumvented the waste of big luxury brands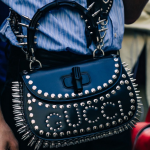 About a year ago, Amazon presented the Amazon Luxury Stores format in Europe, a version of its marketplace dedicated to high-end fashion and beauty, but from the outset, there were doubts about the success of the design, as only a few brands had joined the initiative, such as Missoni, Elie Saab or Oscar de la Renta. Yet it seems that companies such as LVMH, Moët, Hennessy, and Louis Vuitton, which have repeatedly refused to partner with Amazon, as well as retail start-ups such as The RealReal, like it or not, will still be present in the new e-commerce section. How? Through a partnership between Amazon and the retailer What Goes Around Comes Around, which offers a selection of second-hand and vintage handbags, as well as accessories and jewelry from some of the biggest luxury brands, from Louis Vuitton to Hermès, via Chanel, Prada, Gucci and Rolex, and which Amazon defines as "The best luxury vintage".
According to WWD, 500 items will be available on Amazon's site in the coming months, increasing to an inventory of over 2,000 selected items. This is a smart move for both parties involved because on the one hand What Goes Around Comes Around can, thanks to the partnership, access a very large customer base and at the same time, Amazon can finally dispose of the big brands without having to worry about authentication. Interestingly, the designer directory of Amazon Luxury Stores does not only list What Goes Around Comes Around as a brand to shop from: every single brand offered through WGACA, including Chanel Pre-Loved, Dior Pre-Loved, Fendi Pre-Loved, each with its landing page, adds via the vintage gimmick 10 of the most important luxury brands - whose reactions have not yet been made public - to Amazon's roster of labels.
The partnership dates back to 1993, when WGACA co-founder Seth Weisser started a collaboration with partner Gerard Maione 1993: «We have a long-standing partnership with Shopbop [Amazon subsidiary], it was one of the first accounts we started distribution within 2009. So we have always been on Amazon's radar. In late 2020, Amazon started putting some of our Shopbop products on Amazon's main platform, then approached us earlier this year to be part of the luxury shops» he told WWD. The president of Amazon Fashion, Muge Erdirik Dogan, on the other hand, commented on the partnership saying: «We are continuously expanding our product offering. Our customers, particularly Millennial and Gen-Z customers, have shared their interest in vintage and pre-loved luxury. We are excited to bring the joyful shopping experience». An ingenious gimmick that could finally make Amazon Luxury Stores successful after years of failed attempts.