In the psychedelic realm of Marni by Francesco Risso
A new era of knitwear
In a spooky tunnel just below the Manhattan Bridge, to the tune of a melancholic Dev Hynes piece performed by the Brooklyn String Orchestra (which included Risso himself on cello) and a crowded front row figuring Madonna, Kendall Jenner and Doja Cat, Marni succeeded where nature itself would fail: setting the sun in the middle of the night. «Sunset is not a phenomenon of the sun - which takes place on the horizon - but a phenomenon of the body - which sets the sky ablaze» reported the brand's show notes, a statement reflected in hallucinogenic and luminous coloured dresses, DIY mohair, daring cut outs and psychedelic prints, in a palette that faithfully reproduces all the shades that light takes on as day falls. A skillful game of layering combines transparencies, velvet and satin, while the knitwear that made Risso's Marni mainstream takes on a more edgy declination among rips and degradé combinations with circular patterns.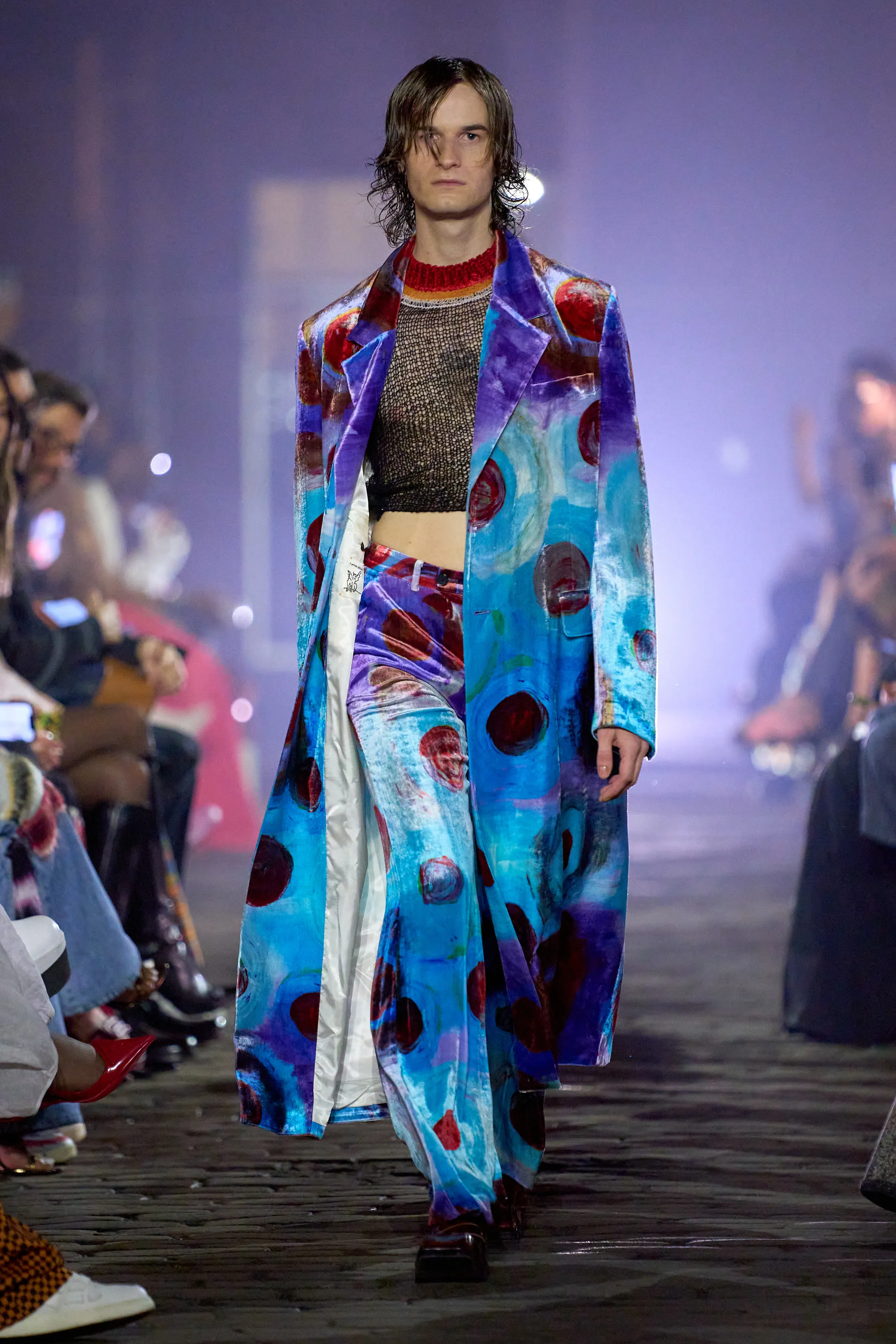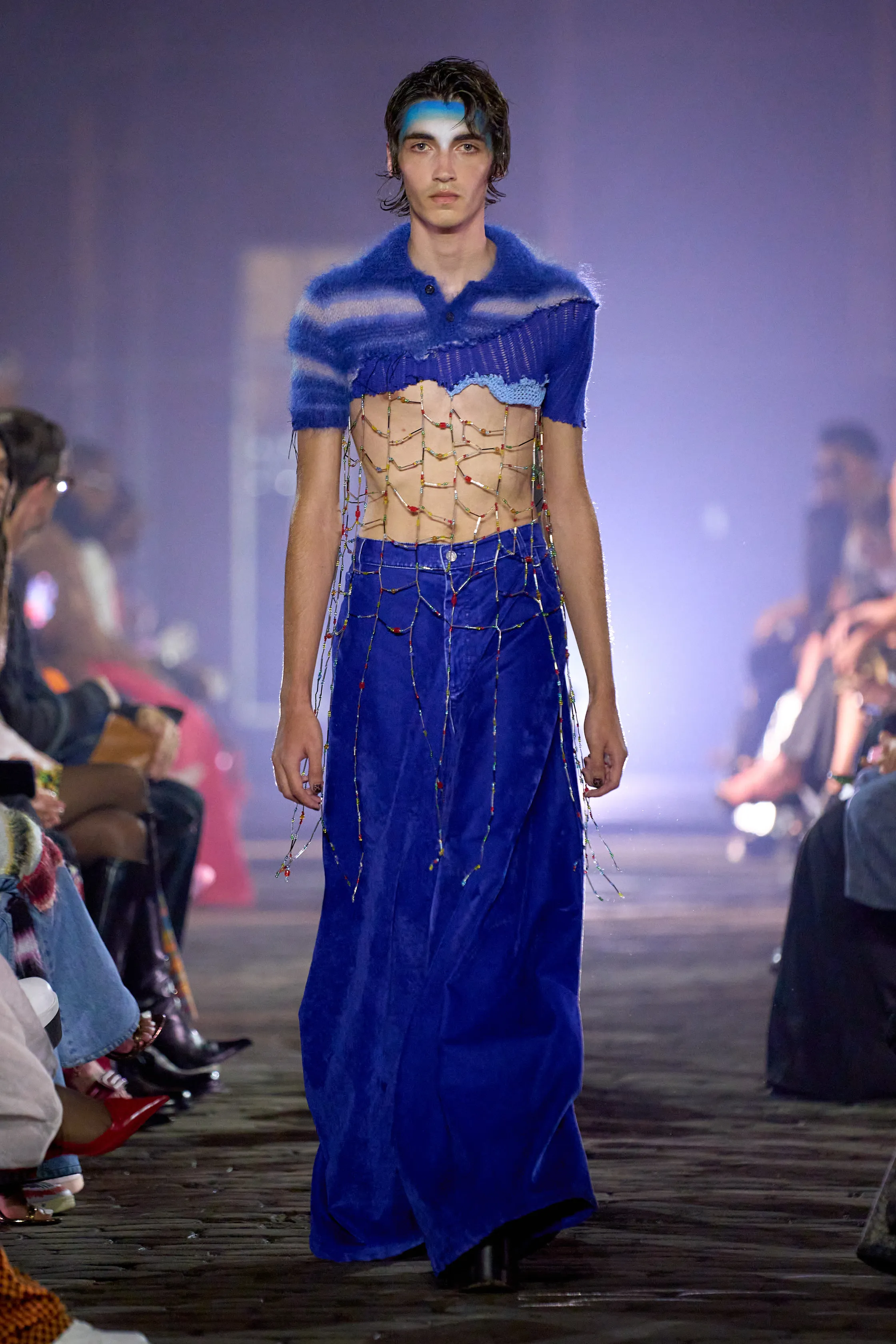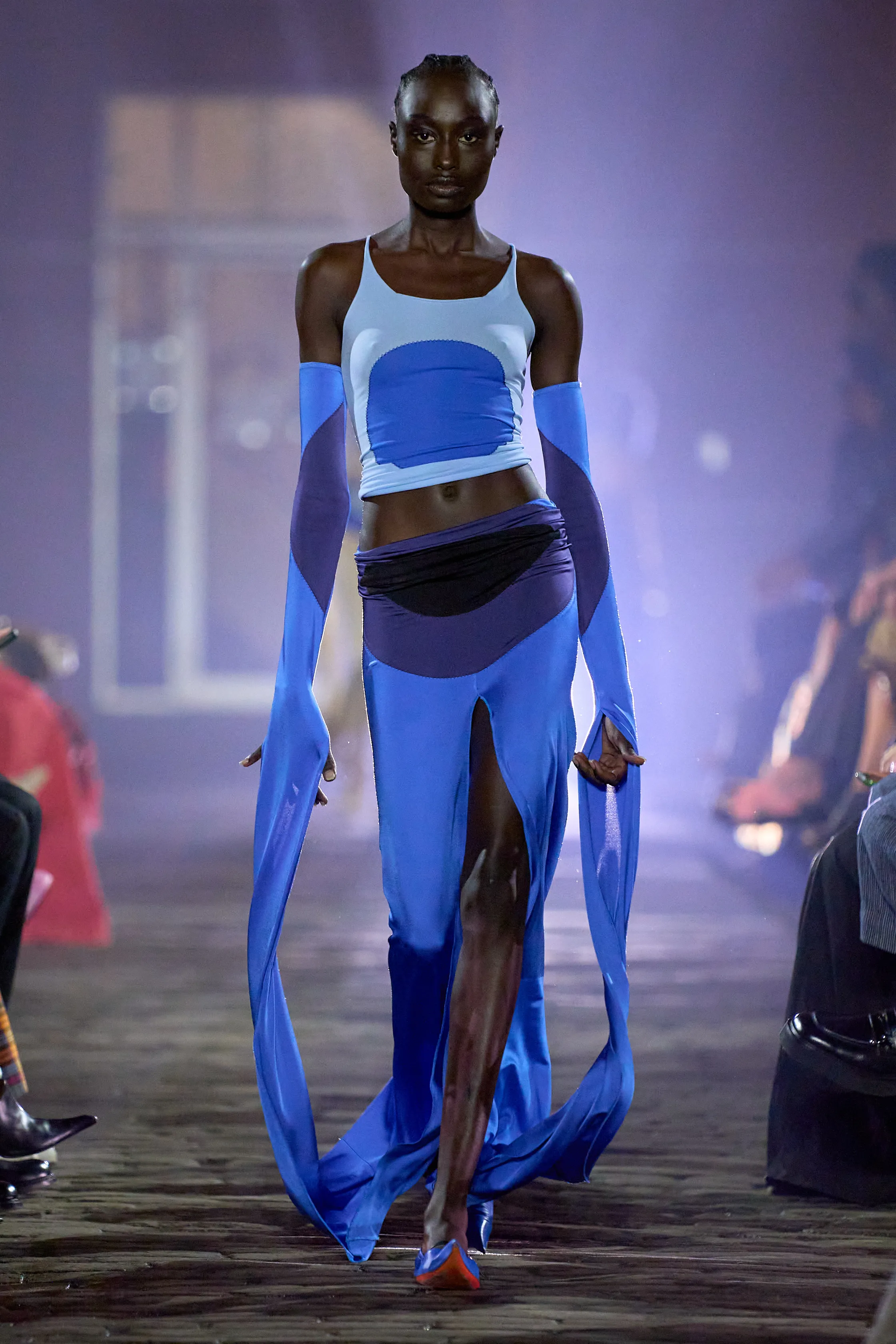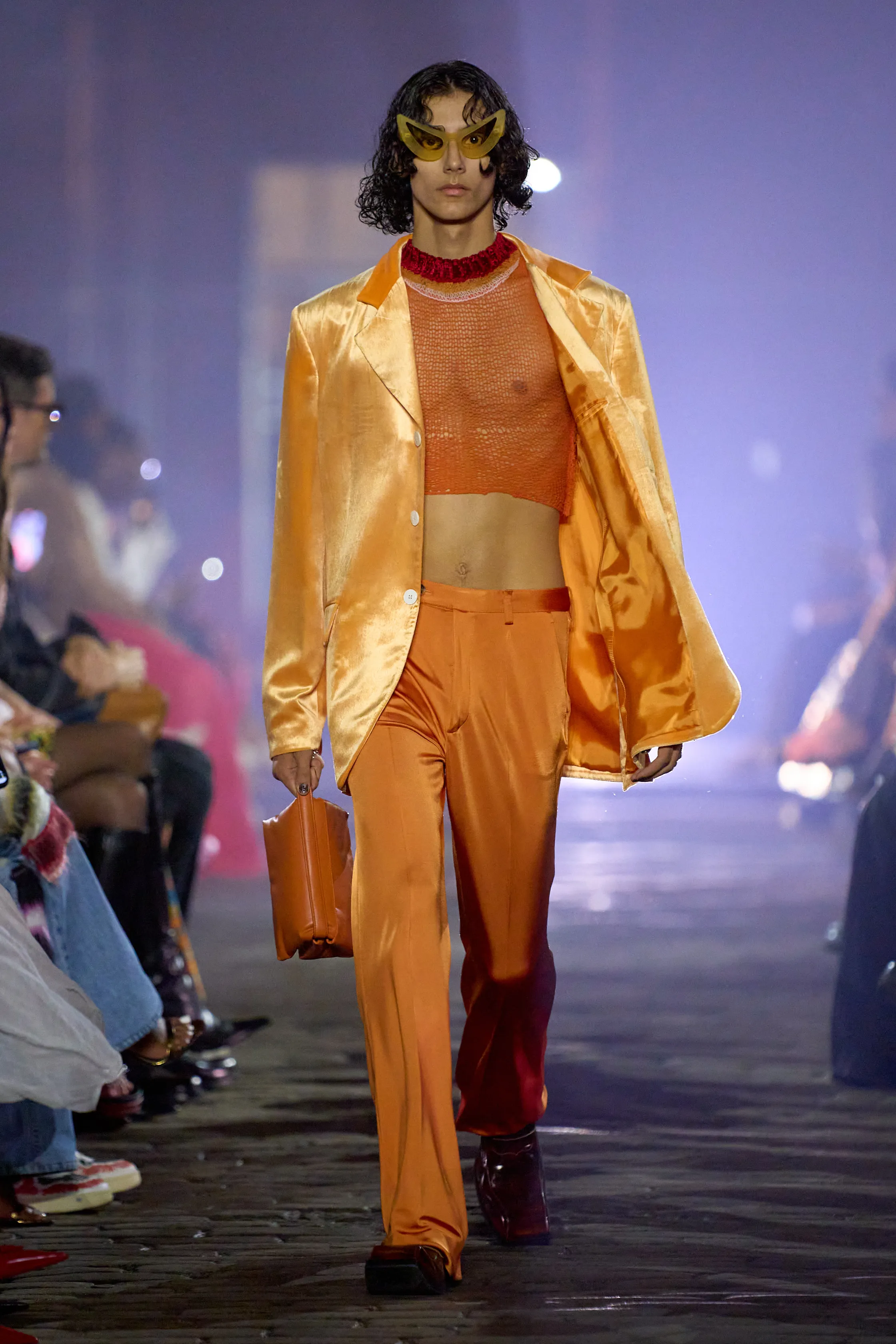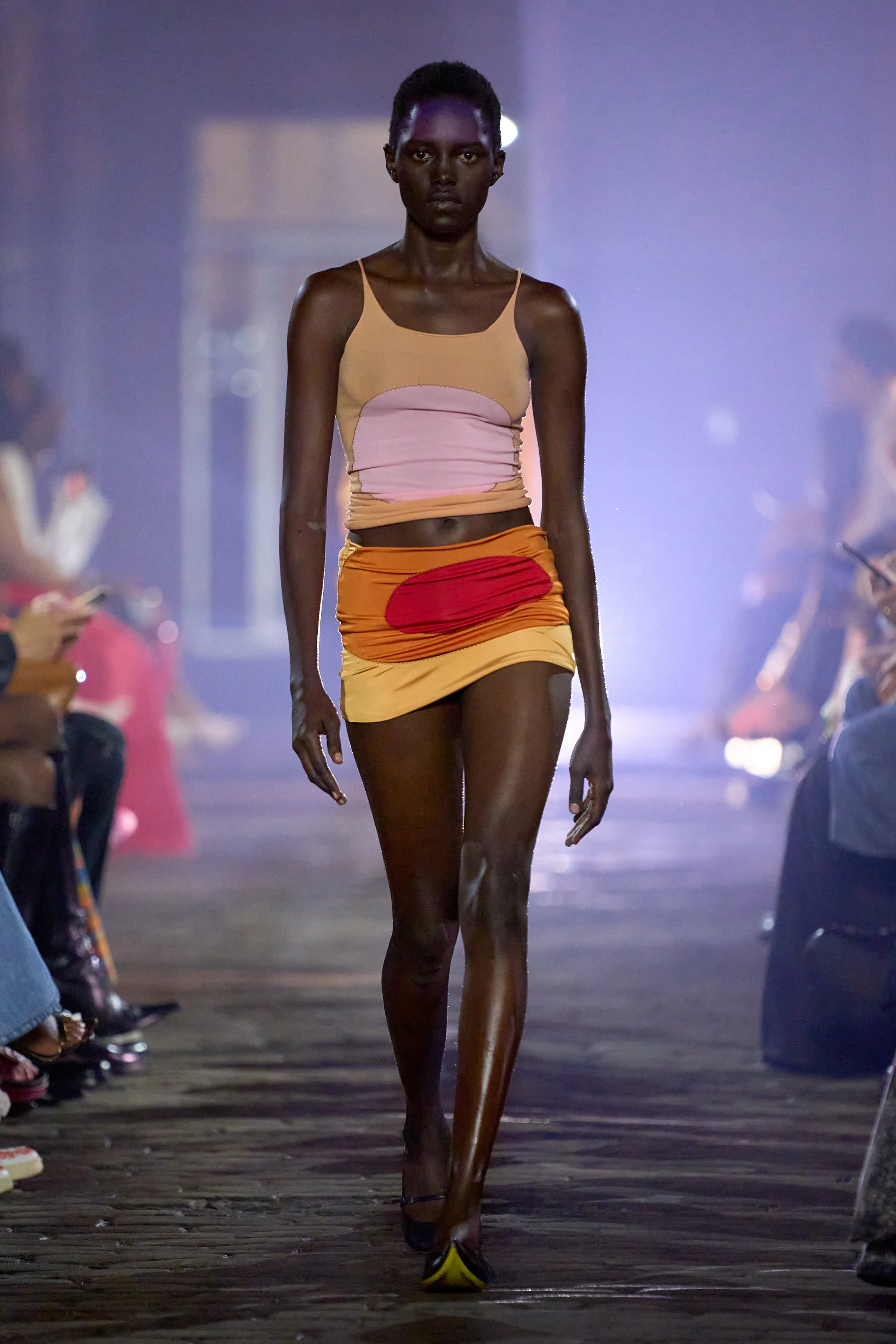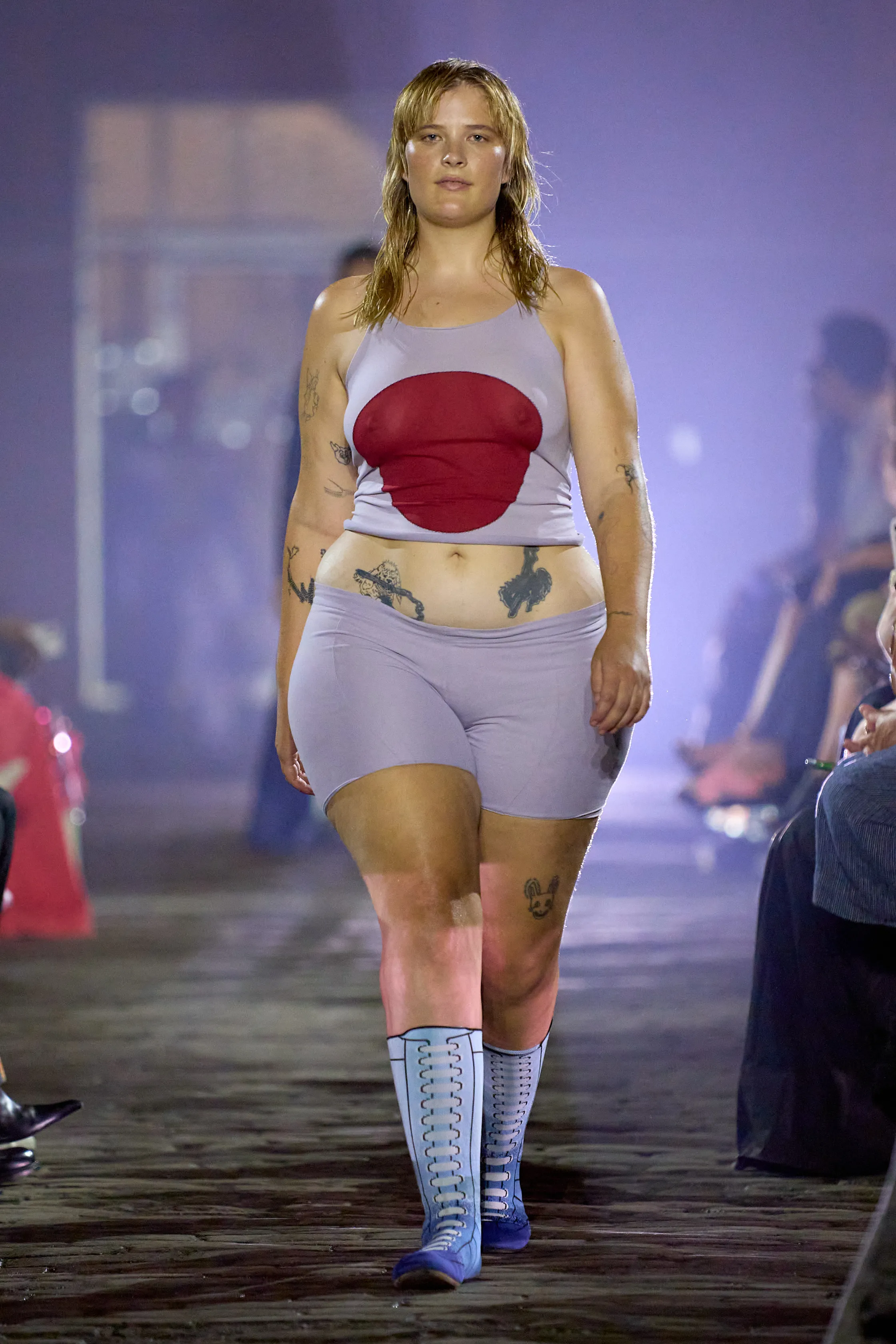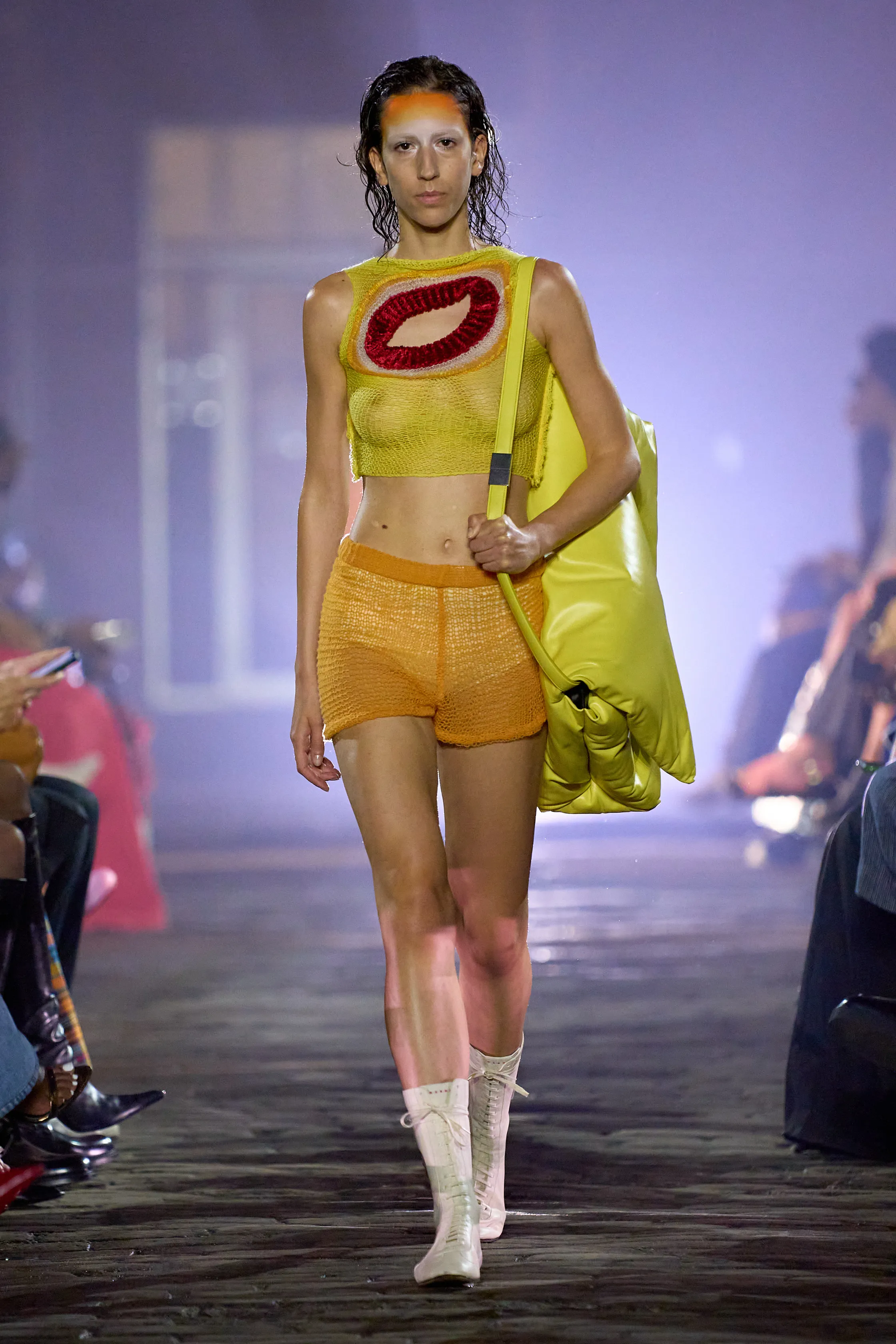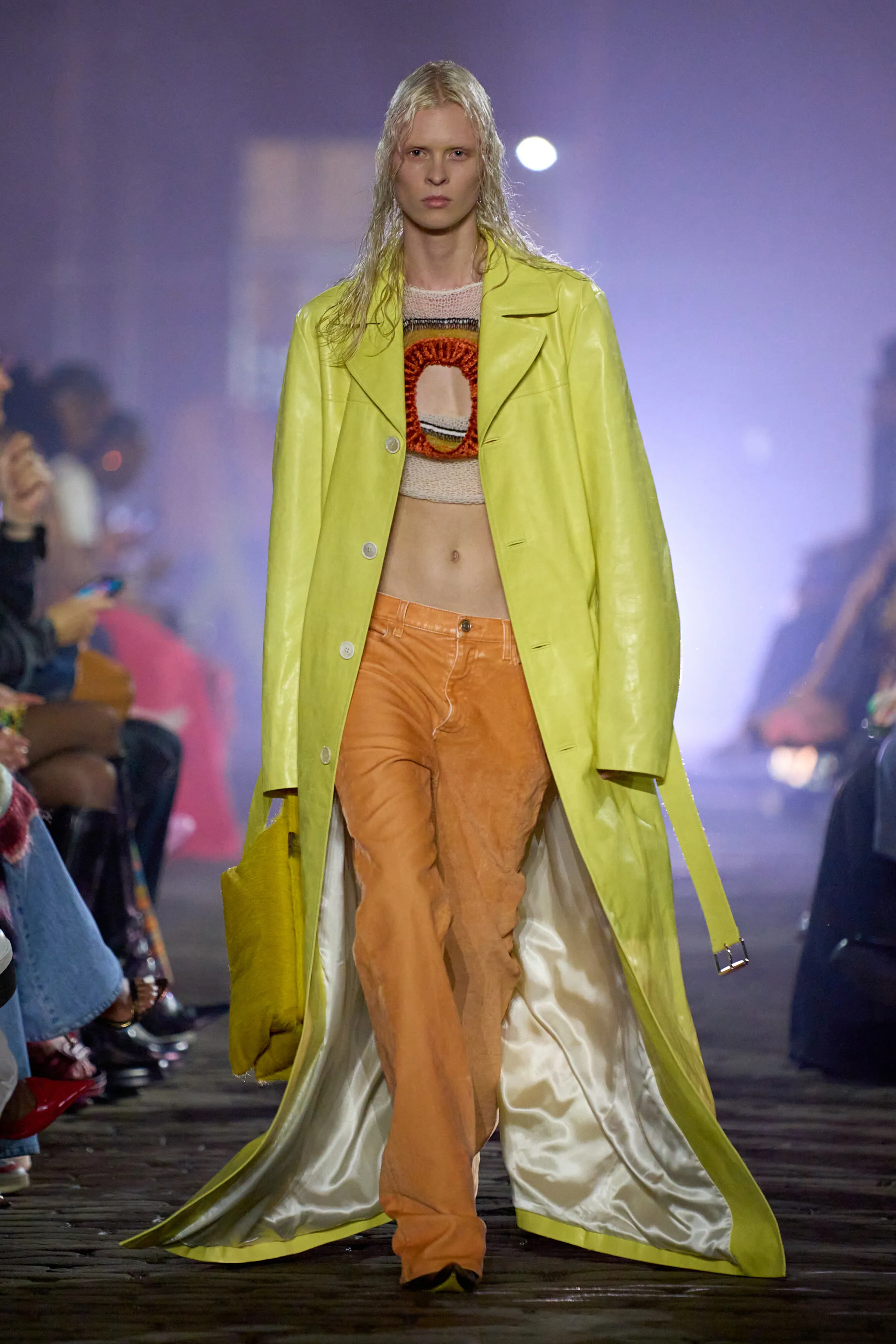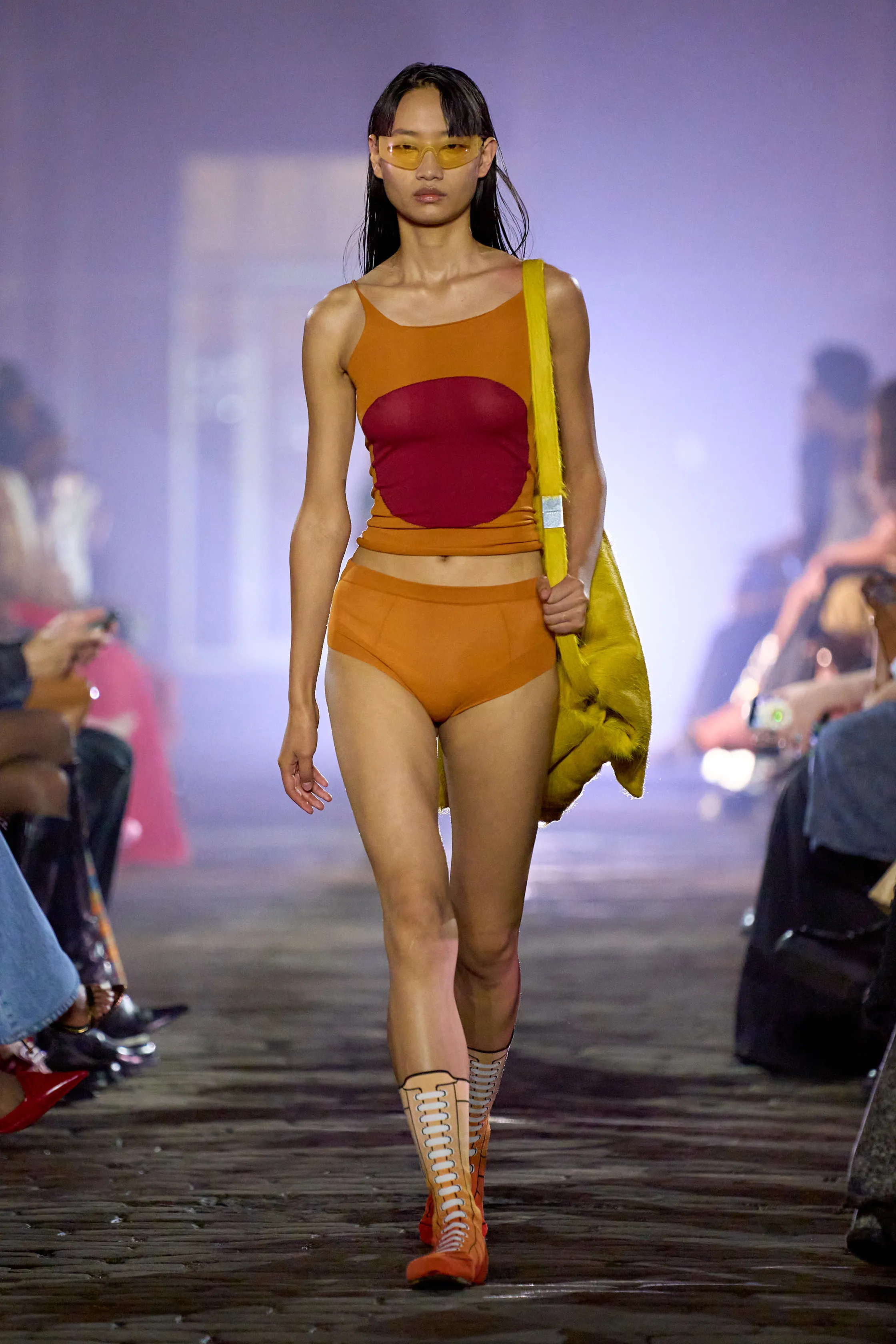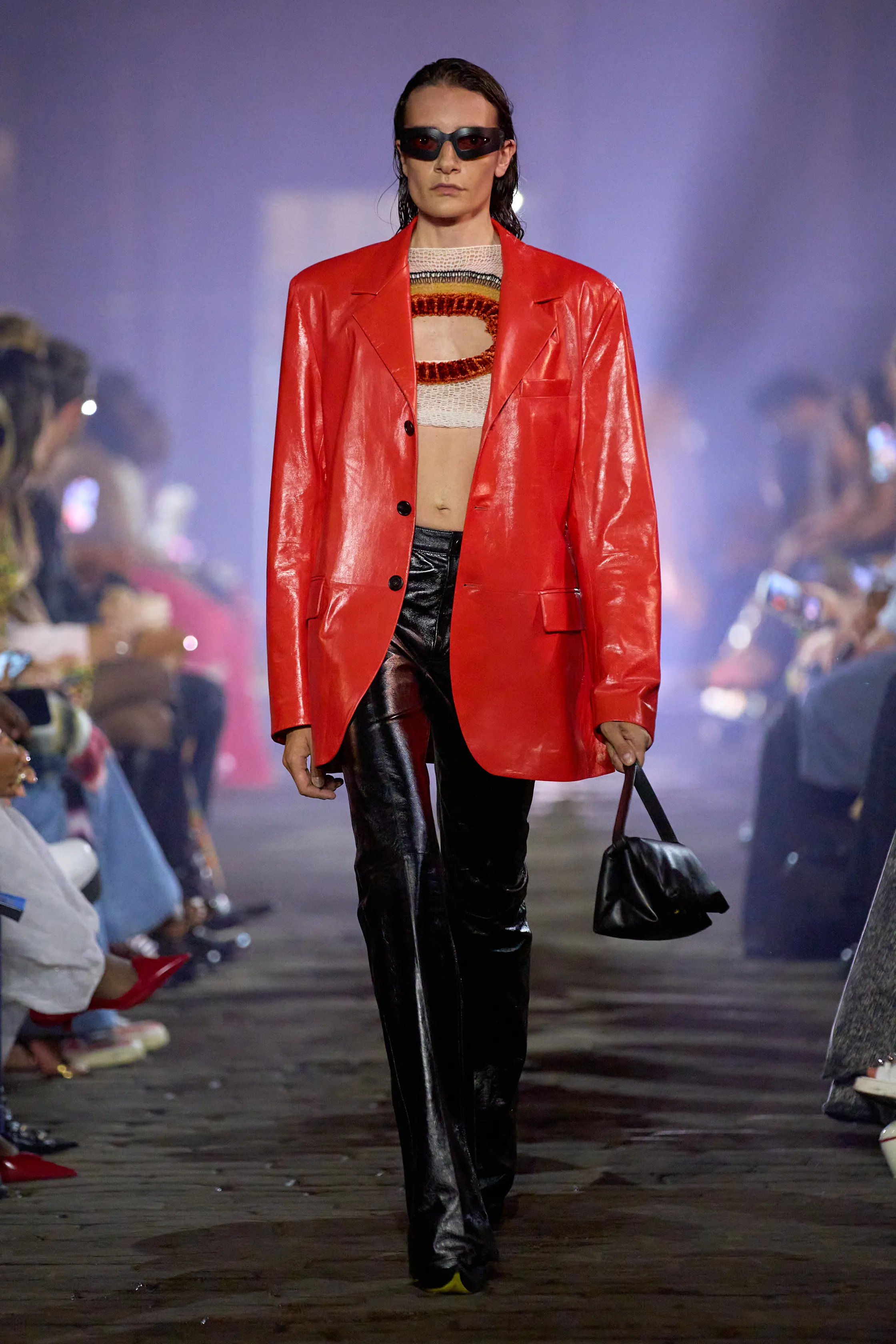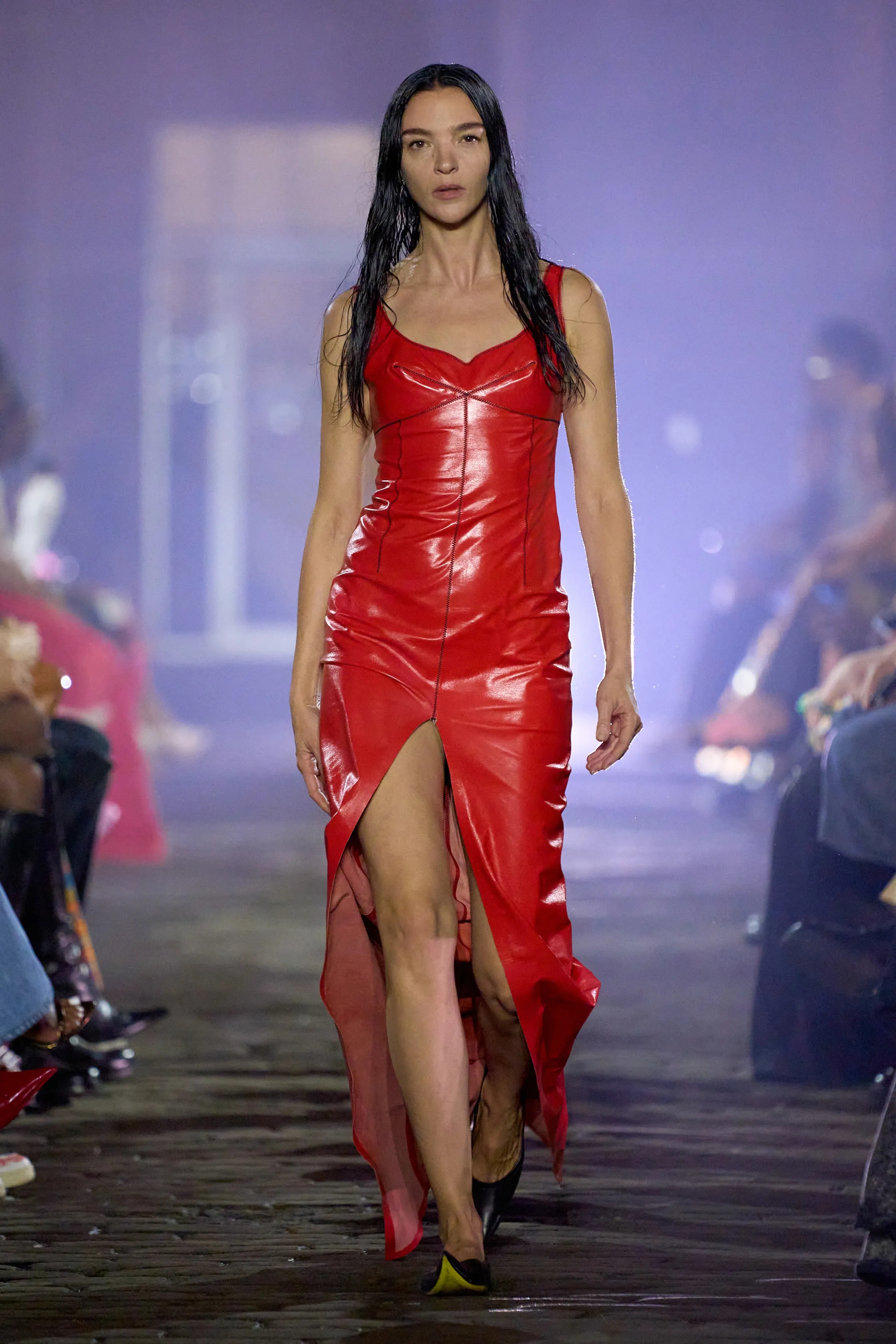 Structured blazers tone down '70s-inspired prints, that new age vibe in earthy colours that immediately brings to mind Woodstock or a commune in Maine. A bright yellow maxi bag peeps out among the looks and seems to ride the trend of the season, as do low waists, micro-skirts, and a rediscovered passion for sunglasses. The brand's DNA, which has always been synonymous with flashy prints and conceptual references that, like a secret language between the designer and the brand's followers, few could understand, here takes on a drift away from Consuelo Castiglioni's wearable avant-garde, more extreme yet more minimal. Drawing inspiration perhaps from the emerging scene (Collina Strada, Paloma Wool, Chopova Lowena), Francesco Risso's SS23 seems to rise above the contingencies of clothing to design a fluid universe in which the body, in all its forms, is the real protagonist. «Everything is constructed in knits, knitwear, things that actually go with the body rather than against it. Even the leather is the softest of all» comments Risso. But, despite the riot of uncovered skin, the models, from Paloma Elsesser and Tyler Mitchell to Lara Stone, convey not sensuality but the otherworldly air of a post-apocalyptic army in a world where the future is finally utopia and not necessarily something grim and frightening.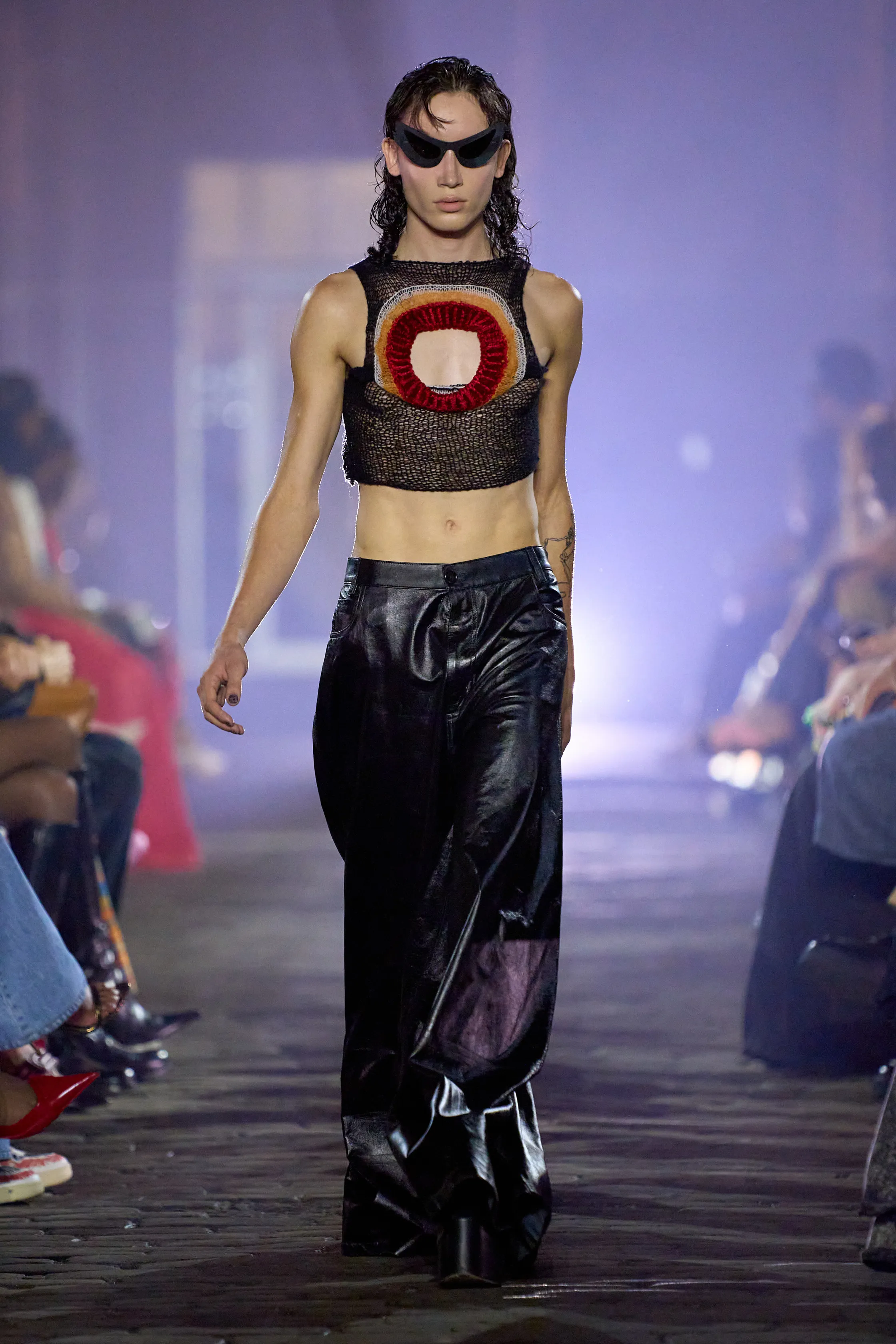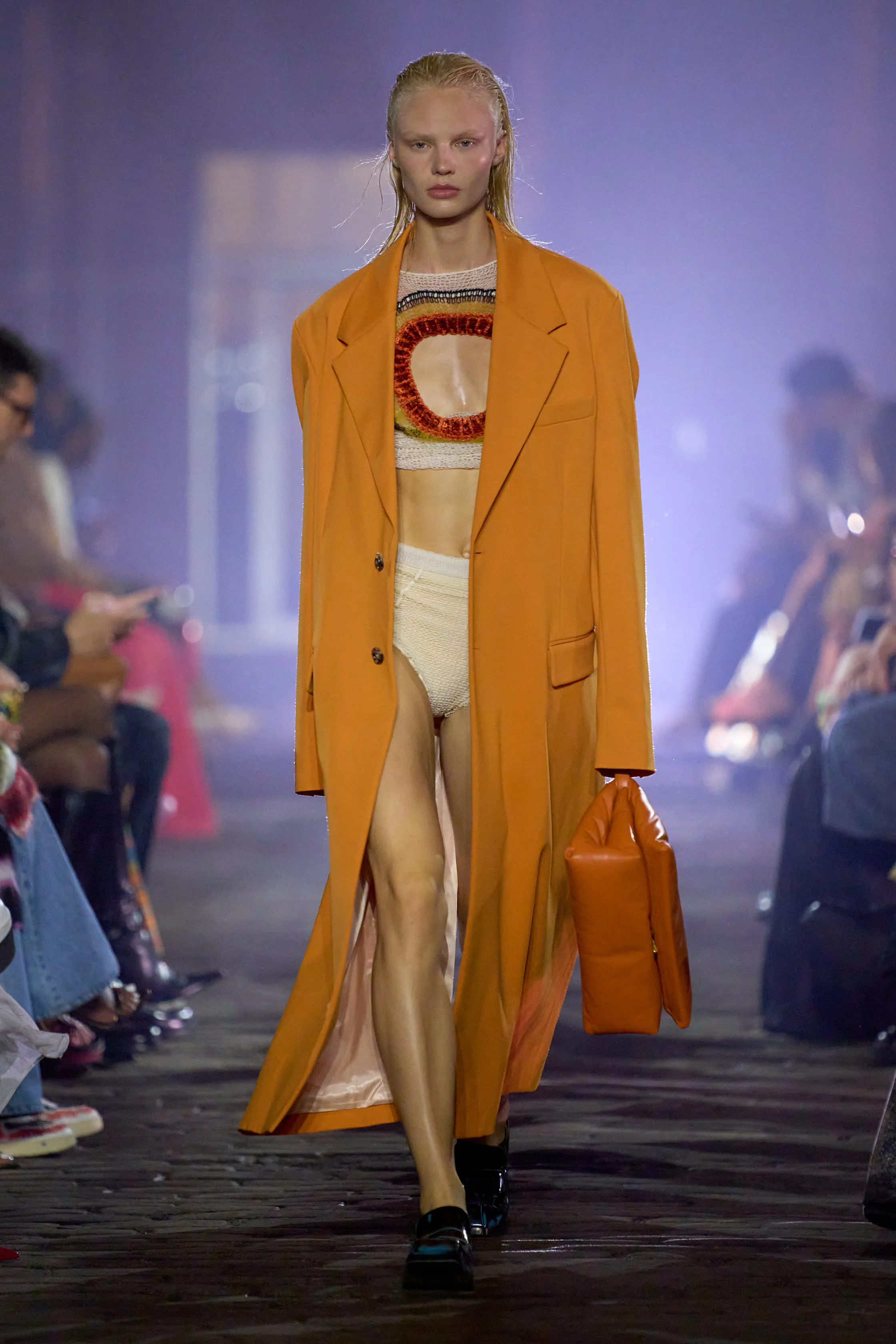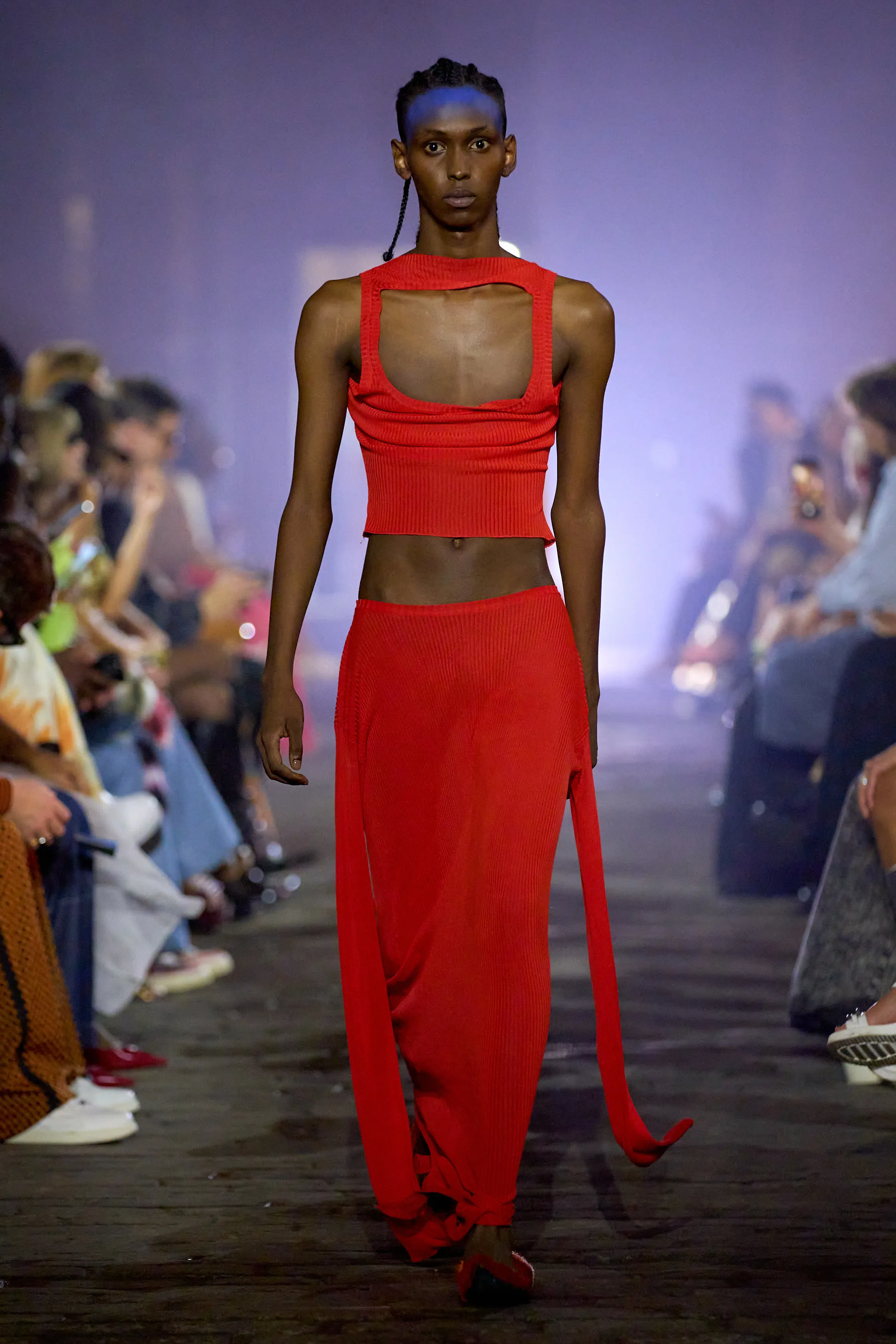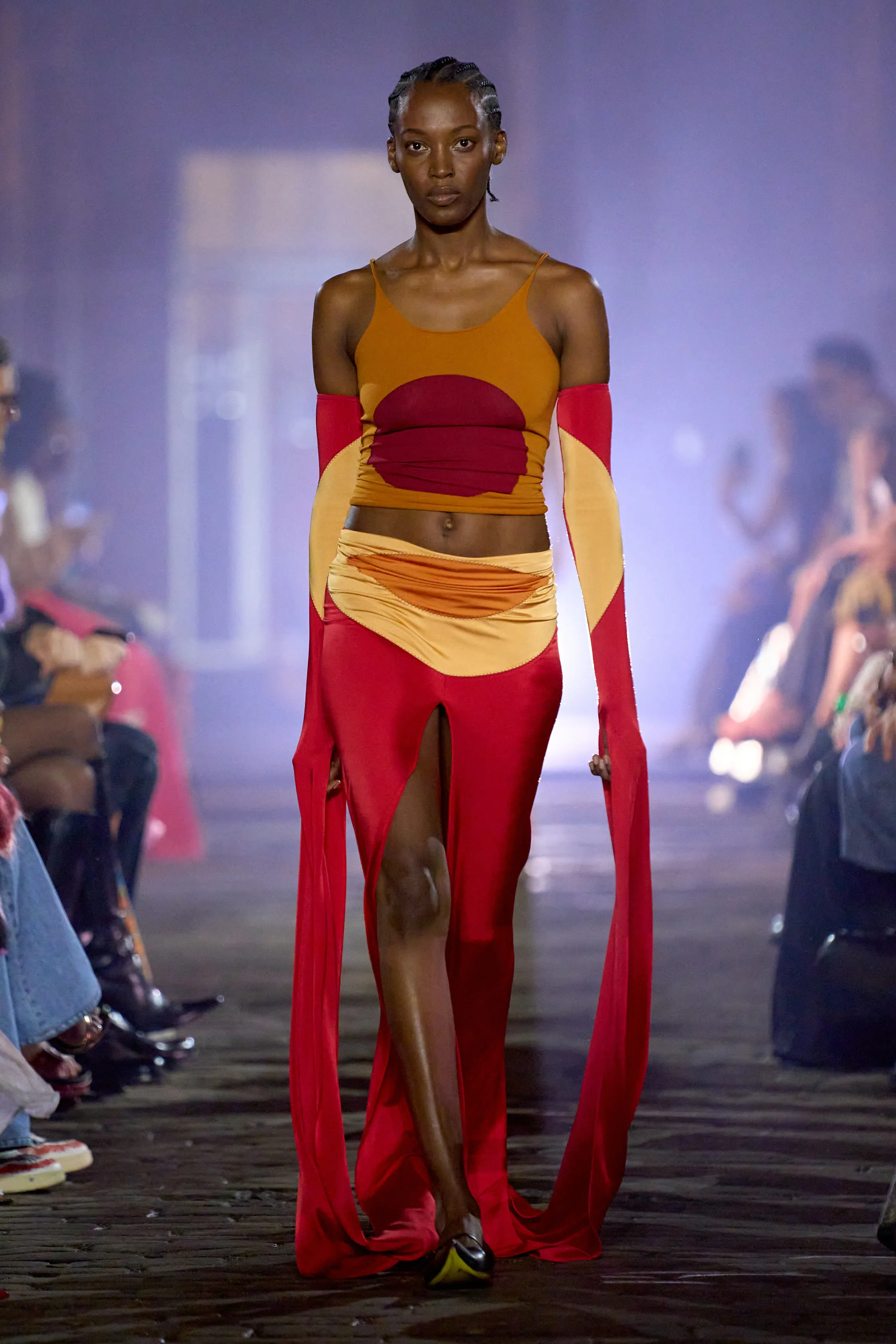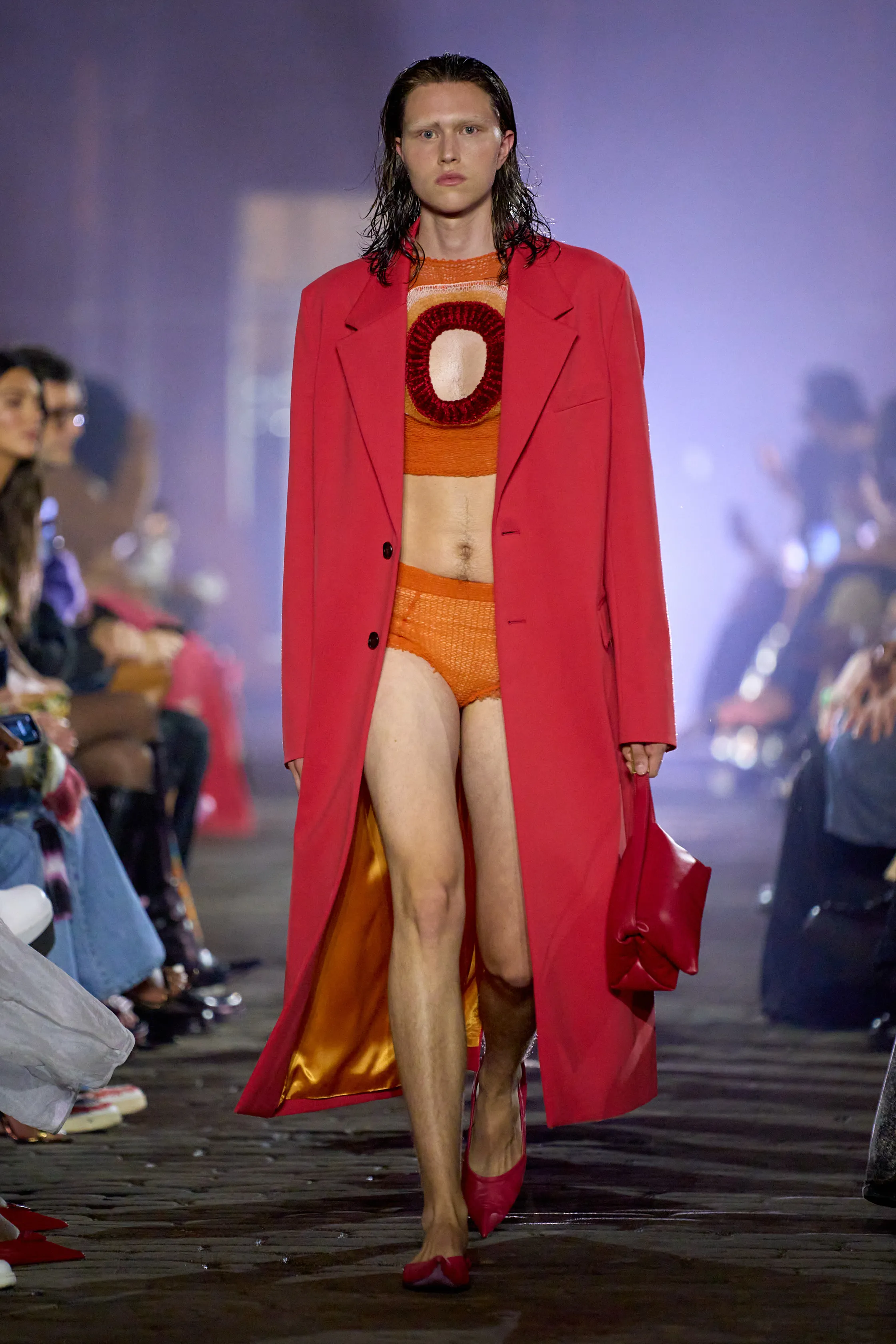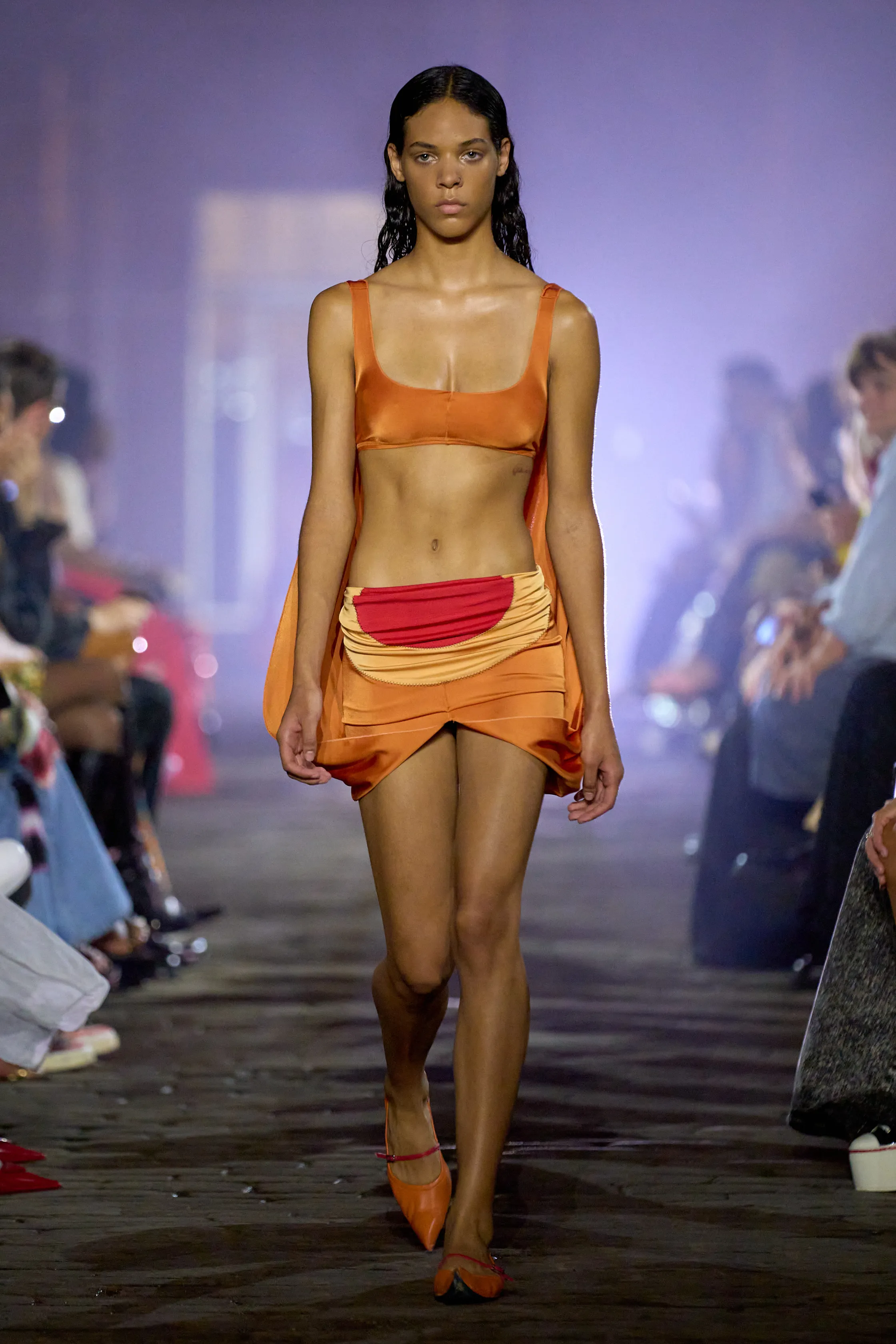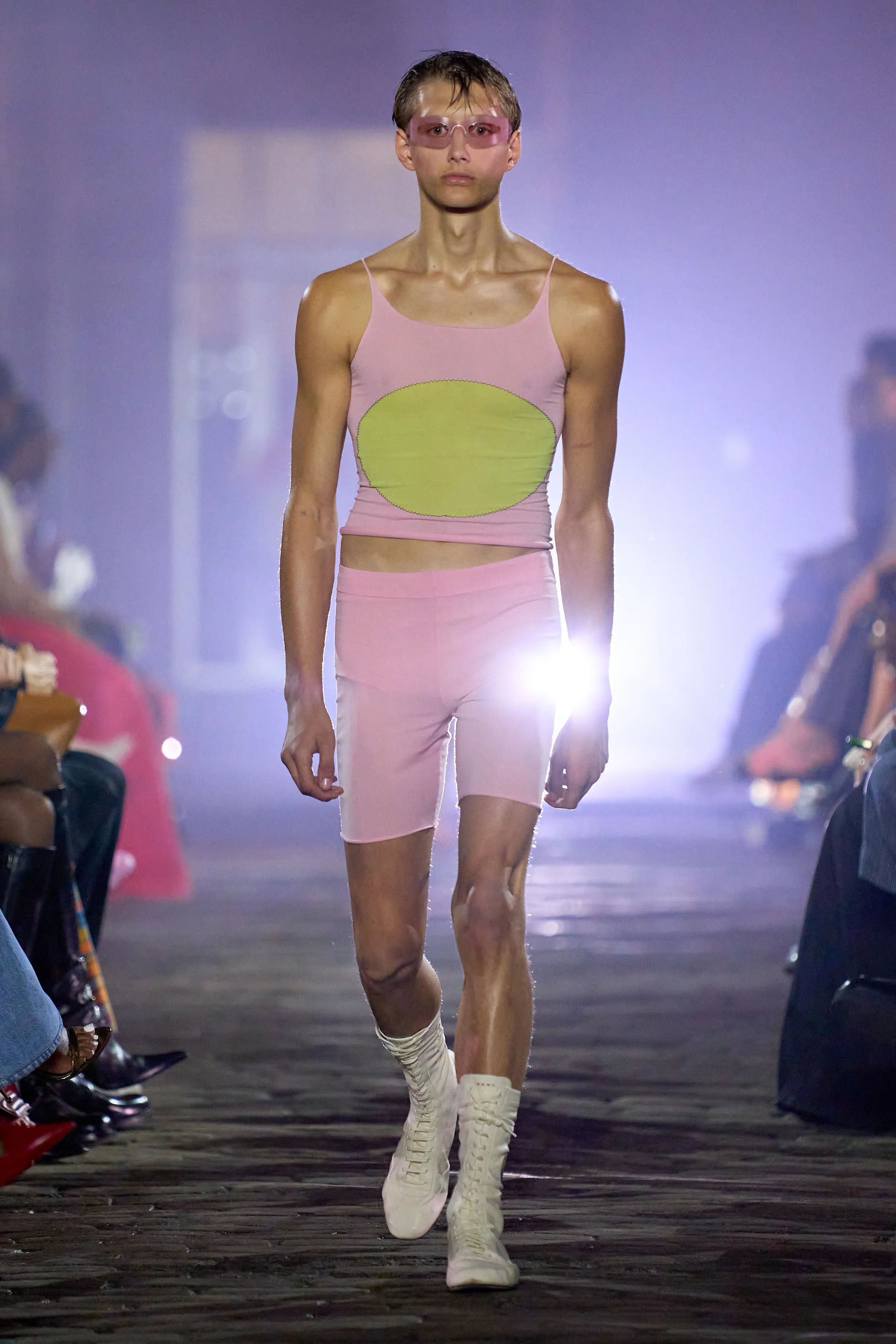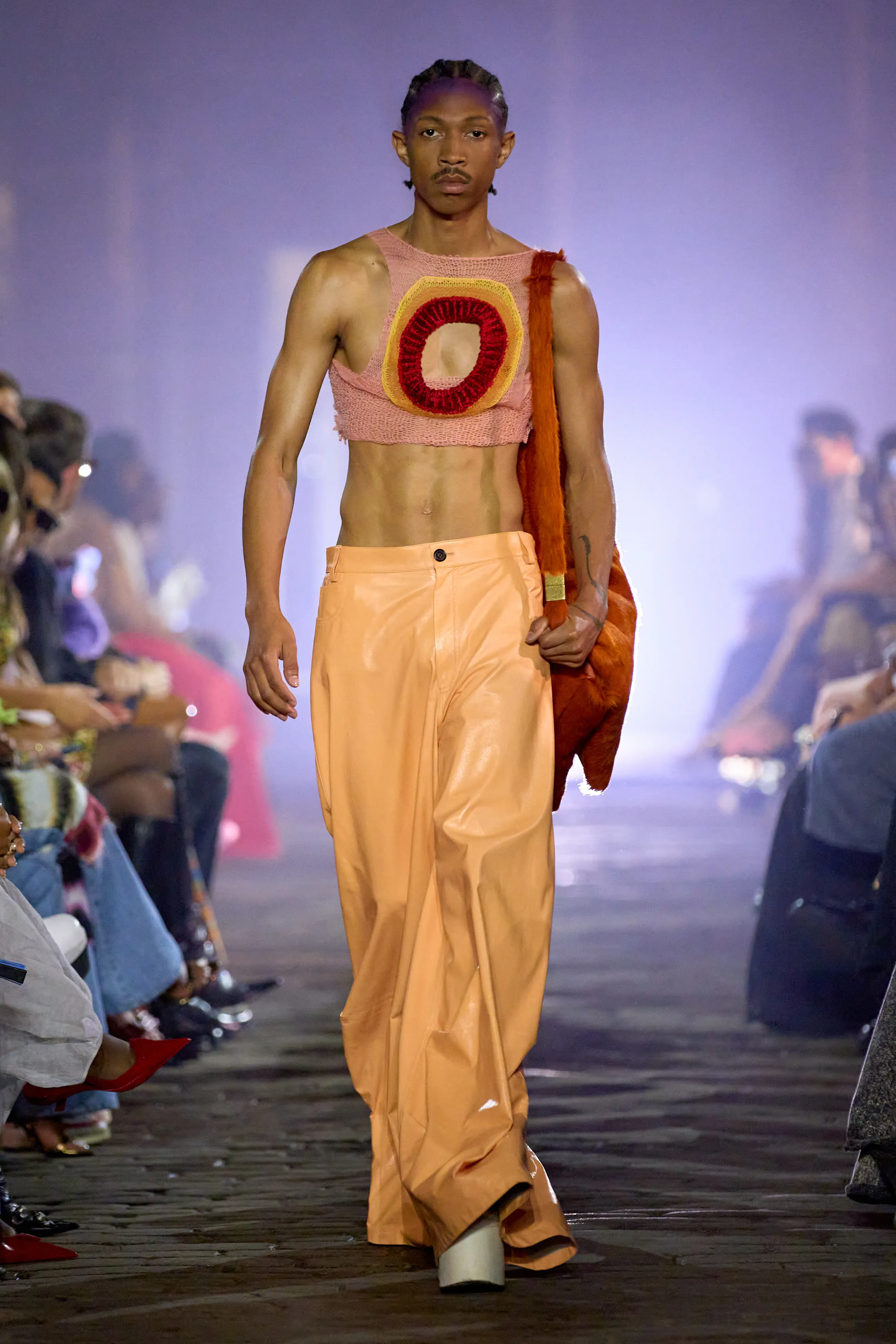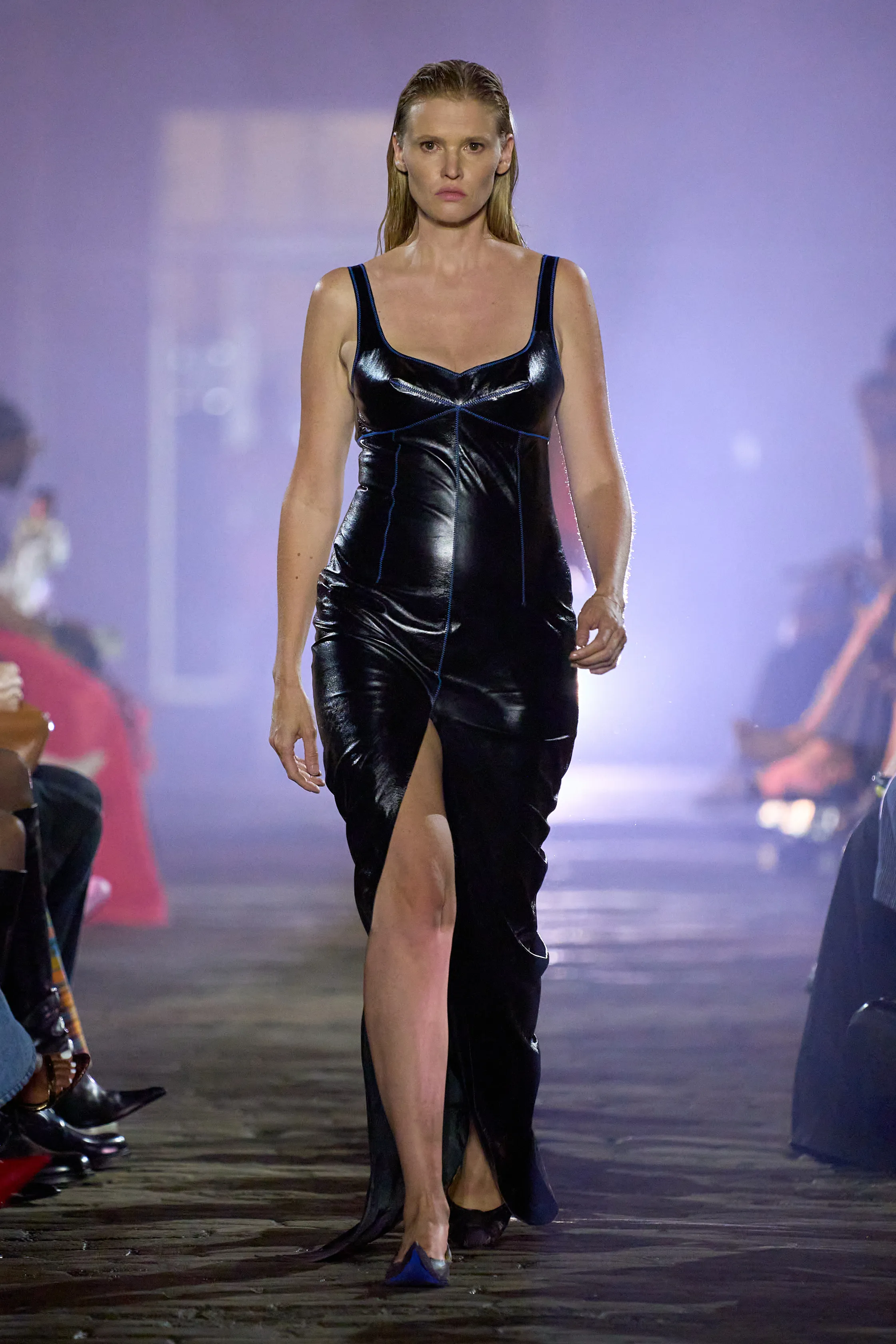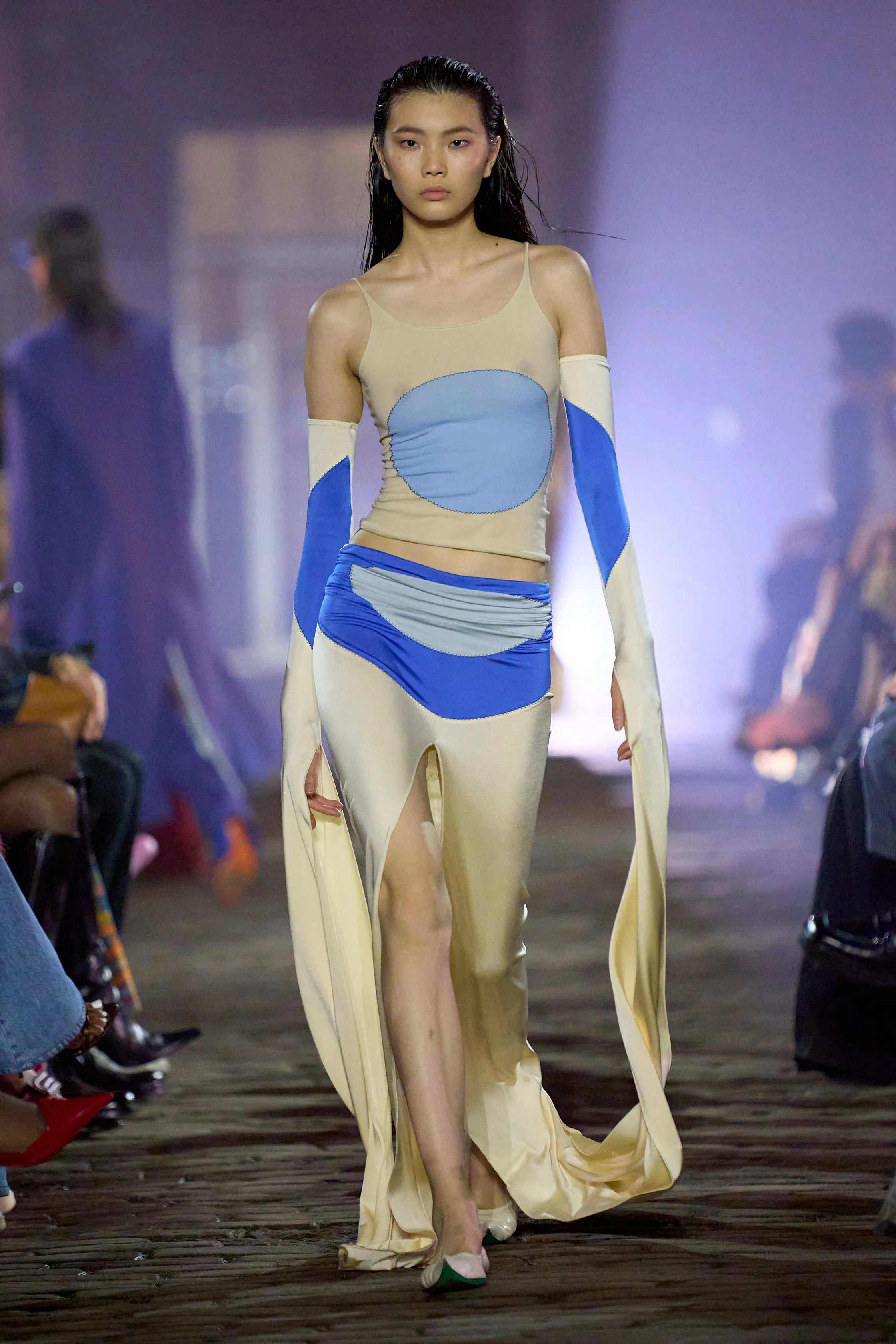 Having landed in NY, Francesco Risso chose the hard way: instead of following the trail of success generated by the chunky jumpers and furry sabots that had made the brand popular among the international rap scene, from Gunna to Lil Baby, the creative director decided to change direction. It seems that Marni has not only explored a new geographic continent, but also a new stylistic territory far from both Risso's usual bleak, goth and maximalist aesthetic, but also from everything the brand has produced so far. At the show preview, in response to the question "why move from Milan?" posed by Vogue, Risso replied: «I've been wanting to explore for a while. It means understanding things from a different perspective, getting in touch with different people. It's a refreshing feeling, there's also a lot to learn, and I'm ready to do it every fucking second. Since America opened its borders last December I've been here, I don't know, maybe 20 times. And yet - he continued - it's not really new, because everyone is in another realm in some way. And Marni's kingdom does seem like a nice place to live».