Remembering Consuelo Castiglioni's time at Marni
Birth of a cult brand
Tomorrow night, after years and years of Milan presentations, Marni will make its debut on the New York catwalks - an overseas escapade that for Francesco Risso is meant to signify another opening to the world, as well as a new chapter in the brand's history. On the threshold of this new era, however, it is good not to forget why Marni became the cult brand it is now, before mohair sweaters, before fur-covered mules and before pierced loafers. Indeed, the brand was the birth of one of the most incredible designers of her generation, a self-taught creative director who through a mixture of aesthetic sensibilities and technical innovations is still counted among the ranks of fashion pioneers along with Miuccia Prada, Rei Kawakubo and Phoebe Philo. The name of this designer is Consuelo Castiglioni, and it was thanks to her and the unique imprint she managed to give to her collections that Marni became a phenomenon for the women of her time, a brand that told an original and above all intellectual femininity, nourished by artistic suggestions and vital in the exuberance of its famous prints. Precisely the prints, together with the cuts and the work on materials, became the three "signatures" of Consuelo Castiglioni's Marni - this is its story.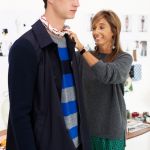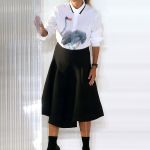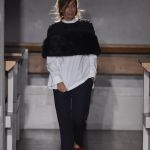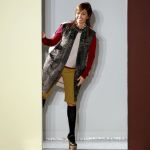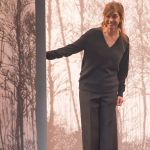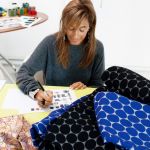 First of all, let's start with the name, which, strangely for a fashion brand, is not the founder's last name. In fact, Consuelo Castiglioni was born in Lugano, Switzerland, and took the surname from her husband Gianni Castiglioni, president of CiwiFurs, an Italian company specializing in the production of furs for luxury brands such as Fendi, Prada, Dior, and Louis Vuitton. In 1994 Consuelo together with her husband and sister-in-law Marina Castiglioni decided to produce their own designs even though they lacked specific training. The name of the brand was the nickname Gianni had given to his sister Marina, a name symbolic of the family nature of the brand. The first collection consisted only of fur - an element that remained in Marni's DNA for all subsequent collections even though Consuelo herself was vegan. At the time, fur was still treated as a genteel material for stately and vaguely old-fashioned clothes, but Consuelo Castiglioni shaved it, dyed it, constructed it with patchwork techniques, and unlined it by tying it at the waist with a leather cord, using it to create easily wearable clothes, already giving signs of the avant-garde sensibility that would manifest itself in full force over the next two decades.
But Marni's success over time was decreed by the wearability of its products, attention to materials, and Consuelo's own desire to create timeless classics. When in 2007 a journalist compared Consuelo Castiglioni's approach to that of Miuccia Prada, another designer who cultivates idiosyncrasy by experimenting with different imagery in her collections, she replied: «It's not our philosophy to be one thing in one season and then state the opposite the next. [...] I like people to be able to keep their Marni clothes and match them season after season, wearing the new ones with old ones. If I changed completely, you wouldn't be able to do that». The brand expanded rapidly but targeting a niche market, without advertising, without chasing the celebrities that the rest of the brands were chasing. «"I design for an independent woman. She dresses for herself, not to please others or to be judged», Consuelo told The Telegraph in 2014. Also in that interview Consuelo spoke of her love for art, which was celebrated, for example, with an exhibition at the Venice Biennale that very year, on the 20th anniversary of the foundation: «I love going to Frieze, say, or Art Basel, because I meet so many people who dress in our clothes. We don't do dresses for the red carpet because - can I say this? - people are paid to wear those clothes. What I get satisfaction from is seeing someone in Marni at an art show, or on the street, or at an exhibition, because I know they have chosen it because they like it, not for any other reason».
An object-symbol of Consuelo Castiglioni's aesthetic is the Fussbett sandal, designed in 2001 after a trip to Africa where the designer saw anatomical soles being made by recycling tires and straw. The original sandals actually had a flat, wide sole made of rubber and rope that made the footwear comfortable and gave the feeling of walking barefoot. Initially disliking the sandals (at the time, women's shoes were supposed to be sexy, a concept Consuelo did not particularly like), an English journalist called them «ugly shoes» although it was in the United Kingdom that Consuelo's clothes found success, with sandals becoming one of the brand's best-selling products. In 2002 came the expansion into menswear, about which, many years later, Consuelo spoke at Il Sole 24Ore: «I would not distinguish between the Marni woman and the Marni man. They belong to the same universe. Independence is the trait they share: they make personal choices, which may appear eccentric, and they have a certain sense of humor. Age, on the other hand, is an irrelevant trait».
In 2012, Renzo Rosso's OTB group announced that it had acquired a majority stake in the brand whose sales were around 130 million euros. «Our competitors are Céline, Balenciaga, Miu Miu - all brands that belong to large luxury groups with more financial possibilities than us to deal with an increasingly complex global market. To strengthen ourselves, we needed a partner», Gianni Castiglioni explained. Rosso's group was, like Marni, a family-run business, the two families knew each other, and most importantly, neither was listed on the stock market, so they did not have to be pressured by the financial world. Consuelo herself, a designer who works intuitively, in a way that is also antithetical to the most obvious and commercial market logic assured that the brand would maintain its identity - not the less everyone recognized that the parternship with OTB's platform was necessary to make Marni sit at the table of international big brands. The coexistence of the two families also marked a gradual departure of Consuelo from her creature sanctioned, in 2015 with the complete acquisition of the brand by OTB (at the beginning it owned 60 percent) which was followed, in 2016, by the announcement of Consuelo Castiglioni's farewell: «The time has now come to dedicate myself to my private life». The SS17 collection was her last, and after her, Francesco Risso arrived to lead the brand to new heights. But the memory of Consuelo Castiglioni, her proverbial reluctance and such an interesting mind never left.