Do we really need a new Supreme x Louis Vuitton collabo?
Rumours lead us to question the future of streetwear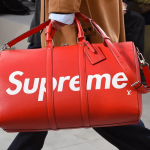 Recently, the fashion world has been animated by a rather persistent rumor that the Holy Grail of collaborations might soon return with a second chapter. It is rumored that Supreme and Louis Vuitton could join forces again for the next autumn/winter collection, following the collaboration that marked a key moment in fashion and streetwear history in 2017 under Kim Jones, with bi-logo bags, accessories, and garments costing up to $25,000 at retail. The sources are Supreme Leaks News and leading trainer leaker PY_RATES, who have been corroborating the claim on Instagram for months with new details, without however receiving official confirmation from the brands.
The news, if true, raises many questions. The biggest of course is: how much does Virgil Abloh have to do with all this? The Chicago designer who died prematurely last November, precisely because of his strong streetwear influence, would have been the perfect designer to seal the second chapter of what is the most important hack between luxury and street culture. Fans would surely have appreciated hearing the opinion of the man who essentially redefined the word "collaboration", paving the way for all the co-branding we see today, from luxury with Balenciaga x Gucci and Fendace to sportswear as in the most recent Jacquemus x Nike.
Supreme x Louis Vuitton 2.0 Coming Soon

— PY_RATES (@py_rates) March 11, 2022
At the same time, it is undeniable that streetwear is now at the end of its life cycle, with the various drops generating less and less hype and one of its founders recently deceased as if to sanction the end of a decade in which clothing started from the streets, witness the limited success of the Air Force 1 by Virgil Abloh. The question arises: would the second chapter of Supreme x Louis Vuitton make sense?