The most important collaborations of 2021 according to Lyst
From Yeezy x Gap to the hacking of Balenciga e Gucci
In recent years, partnership has been a strategy increasingly used in the fashion world: whether it's celebrities, influencers or unlikely collaborations between very different brands, cooperation allows brands to experiment with new designs and aesthetics, but above all to attract new customers, break into a highly competitive market and create a destabilizing wave of demand. Luxury retailers are increasingly open to the idea of ​​making their brand more accessible to a wider demographic of customers through partnerships with mainstream and high street giants, in order to drive sales and engagement, with exclusive collections and limited edition gems to meet a growing demand for "novelties", more common among Gen Z consumers. A marriage of minds that evokes infinite creative possibilities, Elsa Schiaparelli and Dalí or Vivienne Westwood and Keith Harring, but also practical. Smaller labels get a money-booster or some kind of mentorship when working with big brands (not least Ader Error for Zara), while once-forgotten labels (like UGG or Crocs) get a second life thanks to partnerships with giant brands of hype. 2021 was the year of the union between giants, often part of the same financial groups, which, in order to face the market crisis due to Covid, decided to cancel the unwritten rule according to which a collaboration between big names could not really be done: Dior and Sacai, Jean Paul Gaultier and Sacai, Versace and Fendi, Gucci and Balenciaga, Gucci and North Face, but also Miuccia Prada and Raf Simons. Here are the most successful collaborations of 2021 according to Lyst data:
1. Yeezy x Gap
After a year of announcements, delays and rumors, YEEZY and Gap launched the first drop in June, short-circuiting their respective sites: for Yeezy + 320% reach and for Gap + 325%, while at the announcement of the first product, the Blue Round Jacket, there were more than 50,000 clicks per collaboration in just 24 hours. The voluminous jacket with a unisex zip-less silhouette and a rounded recycled nylon structure, was spotted before the release wearing the rapper - immediately recognizable for its strong electric blue hue which confirmed Kanye's interest in studying a new one. colors - combined with one of his strange, but now usual, masks and unexpected Nike Vandal High "Terminator". Another strongly discussed item was the Perfect Hoodie, the sweatshirt in different colors that received mixed reviews and opinions, ultimately proving not so perfect: according to some, too thin and different from the images seen on the GAP website and in some photos of the behind the scenes appeared online. But the data basically speak for themselves: it doesn't matter whether you talk about it well or badly, as long as you talk about it.
2. Ivy Park x Adidas
The partnership between Ivy Park, Beyoncé's illustrious signature brand, and Adidas boasts the most searches for a collaboration this year and has found constant success for each seasonal release, from Icy Park in February, which has generated a + 536% search within one week of release, at the Ivy Park Rodeo summer and fall inclusive swimwear line. The year ended with Halls of Ivy, the capsule inspired by the world of sports launched this December with Natalia Bryant among the faces of the campaign together with, of course, Queen B.
3. The North Face x Gucci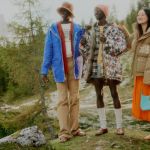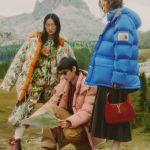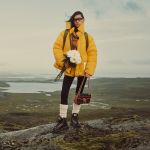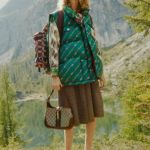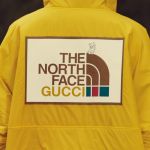 Gucci in its collaboration with North Face has transformed outdoor equipment into real luxury items to collect: a series of nylon jackets, t-shirts and sweatshirts, trekking-inspired boots and even a tent, with constant references to Sixties and the presence of showy motifs ranging from floral prints to the iconic GG monogram. With the premise of rediscovering the values ​​of the outdoors and the bond between man and nature, a selection of items with a sporty yet luxurious touch without neglecting a particular eye for sustainability, has caused over 30,000 collaborative searches in just 24 hours as the double-logo canvas bomber became Lyst's flagship women's product, for which retailers on reselling platforms have asked for up to five times its original price.
4. Telfar x UGG
The designer Telfar Clemens developed the project in partnership with the footwear brand Ugg by launching a capsule collection including an assortment of shearling-covered boots and bags. The iconic fur boots signed by the Australian-born brand, which marked the trends of the 2000s and returned to fashion this year, have merged with the DNA of the American brand known for the it-bag that has conquered the market in recent years. In 2020, the collaboration was well received with the presale sold out in 24 hours, nine months ahead of its official release, while in July, a month after the partnership's launch, demand for Telfar increased by 275% and UGG of 262%.
5. Balenciaga x Gucci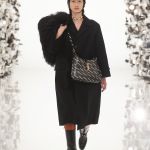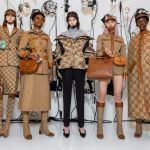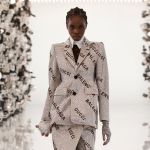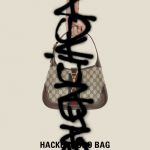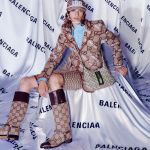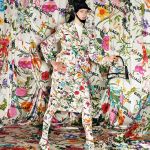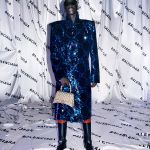 The high-end collaboration - actually "hacking" - between the two historic fashion houses made its debut in April during the Aria fashion show by Gucci on the occasion of the house's centenary. In the two months after the catwalk debut, there were more than 5,000 daily searches for the collaboration that set the model to follow for partnerships between big names and that saw Fendi join forces with Versace in September. In 2021, Gucci came full circle by offering a collection full of references to horseback riding - whips, saddle-shaped hats and riding boots - the archival sensuality of Tom Ford, joined Alessandro Micheles's oniric language through septal piercings, purses with a bleeding heart and even a chinchilla as an accessory, all doubling from co-branded textures, bi-logomania and iconic Balenciaga silhouettes. A riot of elements in front of which most have turned up their noses, but like all high-profile collaborations (or hacking, in this case) such as LV x Supreme, the logos become the symbol of a power game, which shows how the two brands can combine to maintain their cultural grip with two hands instead of one.