The dialogue between art and Valentino's Haute Couture in Venice
For the Des Ateliers collection, Pierpaolo Piccioli invited 17 artists to collaborate in the creation of the looks
Yesterday the Valentino Haute Couture FW22 show, entitled Valentino Des Ateliers, took place. The show was held in Venice on the Gaggiandre of the Arsenale in Venice, two huge aquatic canopies, with a large pier inside, built in the XVI century. The Arsenale was the largest production centre in Venice in the pre-industrial era and today it has become the location of the International Exhibitions of Art and Architecture as well as the International Festivals of Dance, Music and Theater of the Venice Biennale. Precisely in the context of the latter, Pierpaolo Piccioli wanted to present a Couture collection that asked itself the not obvious question of how art and Haute Couture can dialogue. Seventeen painters have in fact took part in the creation of the collection, each bringing their own aesthetic-iconographic baggage to one of the looks. Here's what Piccioli said:
Fashion is not art, fashion always has a practical scope while art is an end in itself.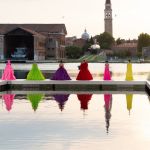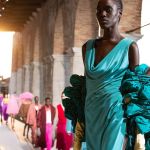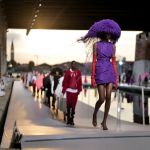 So Valentino's Haute Couture atelier and that of the seventeen artists who have collaborated with it have found a common territory in the concepts of uniqueness, research and experimentation that distinguish the two different creative disciplines. The result was an amazing collection, which was shown with the musical soundtrack of Cosima, but which above all spoke with a modern voice of an ancient tradition such as Haute Couture: the final look, for example, which required 700 hours of work, as @ideservecouture explained to it followers, employed over a hundred meters of satin and with a handmade print that reproduces the dense brushstrokes used by Jamie Nares for his Blues in Red painting. Another look, inspired by Andrea Respino's I Beati Verdi, required 150 different pieces of cloth assembled and worked manually in a mosaic that reproduced the original work.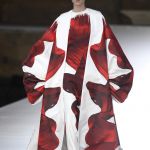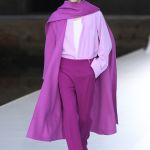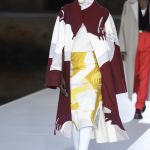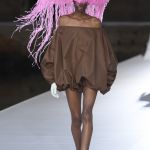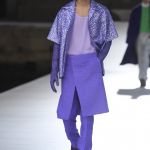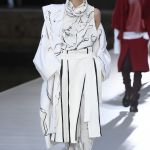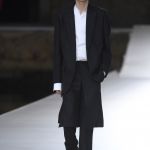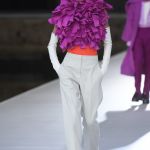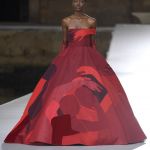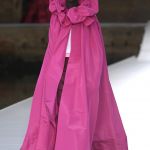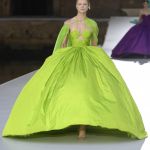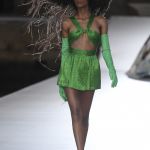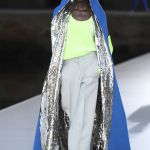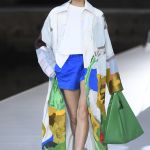 The most remarkable element is certainly the way in which the collaboration process has been structured: circular in the methods, as the design of the clothes was inspired by the works of artists who in turn, involved in the creative process, were inspired by the savoir-faire of the brand's ateliers to translate their art on the fabric. But it's also symbolic of an "open" way of intending Couture fashion that, rather than entrenching itself on the sense of its own importance, ventures into a fruitful dialogue with today's artistic culture by establishing a new transversal and collaborative language that highlights the new cultural role, not only communicative, that fashion brands are increasingly taking on.