What's going on between Ferrari and Armani?
There are rumors of an agreement with Exor, the company that owns the Maranello house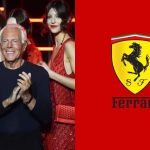 In recent days there have been rumors about a possible agreement between Giorgio Armani and Exor, holding company of the Agnelli family and ferrari's first shareholder, for an unspecified equity partnership between the two companies. Although both sides have denied the news, the potential project has been discussed in recent days in financial circles, as Reported by Marigia Mangano of Il Sole 24 Ore, and a dossier on the matter has been presented to Exor. The project would seem to be very articulated and involves the transfer of the Armani company to Ferrari and the entry of the designer among the shareholders of the Maranello company with a 15-20% stake. Behind the project would hide the difficult question of the succession of the Armani empire, currently heirless, considered that Armani's nephew, Andrea Camerana, is related to the Agnelli dynasty.
The synergy between the two groups does not sound implausible, considering how Armani and Ferrari had already entered into a partnership in 2019 to «diversify the brand on clothing and entertainment» as the CEO, Louis Camilleri, explained at the time. However, Exor ruled out the possibility, given that, if implemented, the project would make Armani Ferrari's second largest shareholder, putting the balance of the group's shareholding, dominated at 23.5% by Exor itself and 10% by Pietro Ferrari, down. The hypothesis remains highly suggestive, however, both because Armani had expressed interest in the formation of an Italian luxury mega-group in an interview some time ago, both because Exor recently acquired 24% of Christian Louboutin along with the majority stake in Chinese luxury group Shang Xia, co-founded by Hermès, thus demonstrating a substantial interest in the field of luxury fashion and hinting at the idea of an Italian luxury group led by Exor. To date, however, a full merger of the two groups seems unlikely even if Exor's interest in the group would not be ruled out.