3 reasons to follow 'Aria', the show that could revolutionize Gucci
Thursday at 3 pm live on the @nssmagazine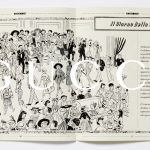 Today at 15:00 Aria will air, the show for Gucci's new collection designed by Alessandro Michele. All the details of the show are currently top secret – all we know is that it will be a digital presentation, but it is not yet known whether it will be an experiment closer to the fashion show or the cinema, as Gucci Overture was last year.
The show will be visible on all the social channels of the brand and will also be broadcast live on the Instagram profile of nss magazine.
The wait for the show is skyrocketing for three reasons: the first is that the show will be held on the centenary of Gucci's birth, and it will surely be something epic; the second is that, according to some rumors, we could be about to see some surprises on the catwalk that involve other famous names of high fashion and, finally, the third is because Gucciquiz! is an invitation to interpret fashion as an artistic form, making it then a game: connecting points, filling in the blanks, finding the interlocking. Unlike the crossword puzzles contained in the Gucciquiz! there are no right or wrong solutions in fashion: the answer is in each of us. And here lies, exactly, the beauty of this conundrum.