What was Gucci like before Alessandro Michele?
Portrait of a fashion that is no longer there
For almost eight years we filled your eyes and memories of the nostalgic and esoteric aestheticism that Alessandro Michele designed for Gucci - so much so that the memory of what Gucci was before Michele arrived is starting to fade. For now, there is no need to tell too much: just look at how the brand's labels have changed. With Tom Ford and Frida Giannini, under whose control Gucci had become synonymous with a jet-set aesthetic, mingling and minimalist, the labels were black and thin, almost invisible; under Alessandro Michele those same labels have quadrupled in size, the name of Gucci appears large and black, contrasting with the zigzagged and almost opalescent fabric on which it is sewn, surrounded by a severe dark border. The fundamental transition from old to new fashion lies here – enclosed in a label that is the most essential symbol of a shift that, more than concerning designers, concerns the culture that surrounds fashion.
From 2006 to 2014, the work of gucci's design team took place under the ice blue eyes of Frida Giannini. Before her, for over ten years, it was up to Tom Ford to lead the brand – which on his arrival already had practically one foot in it grave. When Ford arrived, the brand was in great financial difficulty and needed a creative director who could reinterpret its heritage for the world of the 1990s. Ford's designs were minimalist and sophisticated on the one hand and incredibly sexy on the other. A type of aesthetic perfectly represented by gucci's famous (and scandalous) campaigns of the time, in which models and models were dressed, yes, but always seemed to be on the verge of undressing. Nudes and half-naked people abounded in her campaigns, references to fetishes and group sex make perbenists blush even twenty years later and there was one, it is not known if famous or infamous, in which a model's pubic hair was cut in the shape of a "G".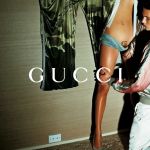 The emphasis of Tom Ford's designs rested on the silhouette, on his exaltation of the body through an opulent use of materials. The main difference with today's Gucci revolved around the personality of the brand: with Tom Ford, the dress was a complement to the body; with Michele, it is the body that becomes a complement to the dress. This crucial difference gave rise to the opposing visions of the two designers and this was due, at least in part, to marketing. In those days fashion was aimed at a substantially older audience, millennials were still all in bands and Gen Z did not exist: Tom Ford's collections (as well as his campaigns) were literally "for adults", they told of a world made of minimalist architecture, bright colors and sensual languor - a world in which the exclusivity of luxury was communicated through the element of the forbidden, of erotica. Light years away from Michele's bubbly decorativeism, his Greek gods, his pagan but also revolutionary rituals at a time when fashion campaigns were rediscovering a new edginess (just think of the contemporary campaigns of a brand like Versace).
Frida Giannini's era continued on the same trajectory, but with a progressive indentation from Ford's sexiness. A move that worked at first but later precipitated the brand to anonymity. Giannini, like Michele, had started by designing Gucci accessories and bags – a type of heritage that was brought to light during his tenure. The aesthetic promoted by Giannini turned to the same sophisticated jet-set as Tom Ford, following the dictates of a conservative and somewhat reactionary fashion in which beauty and ugliness were clearly divided. In an interview with Fanpage.it this year, Giannini said:
«What I certainly do not understand is this "aesthetic of the ugly" that was born and developed in recent years which, I am sorry to say, makes me horrified. As a woman, when I buy something I want something that makes me feel cooler, leaner, more beautiful, younger».
Needless to say, this opinion is an open departure from some of the latest drifts in today's fashion. The extreme sophistication promoted by Giannini began to seem obsolescent, just as his continuous recourse to the brand's archive had caused his collections to lose bite – a figure that resulted in a drop in sales starting in 2013. For years Frida Giannini had been a solid designer, who sold despite the not always enthusiastic critics and her golden age, between 2010 and 2013, led to the maison of exceptional collections but in the last years of her tenure she was no longer in step with the times. Tom Ford sold because he made people talk about the brand, his hedonism was a mirror of his time and when Giannini lowered the sexual aggression of the designs the change was very welcome – but it was a storytelling that, in the final stages of the Giannini era, gradually got lost in discontinuous references to the archive: one collection was the 60s, another 1920s, another inspired by the Victorian era , another one at Art Deco. Identity was being lost, campaigns were becoming more and more generic.
But it should not be thought that Frida Giannini left Gucci as she found it: it was she who exhumed the Jacqueline bag and the Flora press, she started the season of Gucci's humanitarian commitment, she brought Florence Welch into the family of the brand and created the campaigns with James Franco, Rihanna and Mark Ronson. Looking at his best collections there are many elements that Alessandro Michele would have recovered and reinvented. The brand's problems were also due to the marketing of the former CEO Patrizio di Marco, husband of Giannini, who had wanted to reduce the use of logos on products and raise the price of bags to regain a higher-end clientele after years of making lower-priced products to expand the consumer base but consequently causing the brand to lose its aura of exclusivity.
Finally, in 2015 there was the coup d'état of François-Henri Pinault, one of the rare Red Weddings of fashion history – Patrizio di Marco and Frida Giannini were uncerimoniously fired and the new CEO, Marco Bizzarri, chose the then unknown Alessandro Michele who had less than a week to put together gucci's FW15 collection. He made a clean slate of everything giannini had already designed, even casting and the assignment of seats in the hall and in a few days he assembled a collection that already possessed, in the back, that eclectic, gender-fluid and vintage-inspired mood that we all know. On January 19, 2015, the audience was stunned: an ephebic, pale model with long ash blonde hair advanced on the catwalk in a wide red shirt, around his neck a knot typical of female blues, the pussy bow. By that time a new era had begun.