Gucci's new grass-stained jeans
The problem will be to explain to your grandmother that you don't have to wash them off
In the 1990s, Helmut Lang stained jeans with paint. In the early 2000s, Hedi Slimane even simulated blood on a shirt. In 2020, Alessandro Michele has decorated a pair of 1200$ Gucci jeans with artificial grass stains. Grandmothers all over the world have been passing on for decades the notion that grass stains are the most difficult to wash away – if only they had known that, in fact, those very insidious spots would have enclosed the grunge spirit of Gucci's FW20 collection in the future and that they would have had, to quote the words of the brand itself, «blur the line between vintage and contemporary».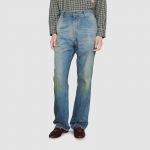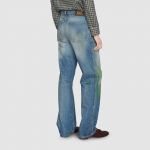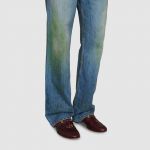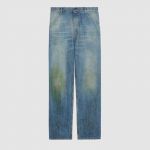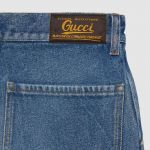 The natural inspiration is not only reflected in the fact that the jeans look like they are the veterans of a field trip spent rolling down on green lawns, but also in the fact that the fabric is 100% organic cotton and all the processing residues have not been thrown away but reused under the pro-sustainability Gucci Up program.
Gucci's new organic jeans are already available on the brand's official website.