The new Vespa by Dior
Designed by Maria Grazia Chiuri in a limited edition
After its recent collaboration with Sean Wotherspoon, Vespa returns to the fashion world by announcing a new partnership with Dior which will see the creative director of the French fashion house's womenswear line, Maria Grazia Chiuri, design a limited edition scooter and a set of accessories that includes a helmet and a trunk. The official name of the model will be Vespa 946 Christian Dior and will be a tribute to the myth of the "Sweet Life" that relates to Christian Dior's love for the Italian Riviera and its Mediterranean aesthetic. Here is how Maria Grazia Chiuri commented on the collaboration:
«For me, Vespa is linked to my city, Rome. I have so many happy memories starring a Vespa. It's how my husband and I used to get around Rome and go to the seaside in Fregene. It's a symbol of Italian-ness that is intricately linked to my personal history, and it's now part of my professional life at Dior».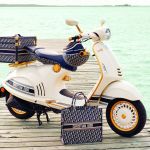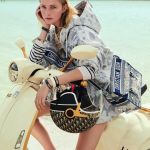 The scooter, white with gold trim, will present a saddle decorated with the Dior Oblique motif, which also returns on the two accessories: a helmet and a trunk. While a band with Christian Dior's branding on it decorates the two sides. A contamination of fashion and lifestyle codes in line with that idea of New Luxury that shifts the focus from the product to the experience that the brand is able to evoke and promise to its customers.
The Vespa 946 Christian Dior will be available in a limited edition starting in 2021 in a selection of Dior boutiques around the world along with accessories. Later you can also buy the scooter in the Motoplex stores of Piaggio.