The most sought after men's sneakers of 2019
Ranking the 10 most desired sneakers in the world in quarter one of 2019
Lyst, the online search engine for the fashion retail world, has just released its Lyst Index results for the first quarter of 2019: Lyst analyzes the online shopping behaviour of more than five million shoppers a month -searching, browsing and buying fashion across 12,000 designers and stores online. The formula behind the Index takes into account global Lyst and Google search data, conversion rates and sales.
We have chosen to take into consideration the relative rankings of men's items which, however, sees only sneakers in the first 10 positions: the true objects of male desire.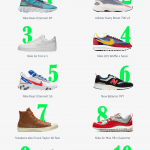 The most sought after men's sneakers of 2019 ranking the 10 most desired spots in the world in the first quarter of 2019. In the first quarter of 2019, there were no major releases, so searches focused mainly on already successful models such as the Nike React occupying the first position with the Element 87 and also in fifth with Element 55.
The continued postponements of the Nike LDV Waffle have contributed to their popularity by ranking them in fourth place. Do not miss the classic and timeless silhouettes like the Air Force 1 in third place and the Converse Chuck Taylor "All Star" in seventh.
A brand that we did not expect to see is Veja with the V-10 model. Veja is a French company of footwear and accessories produced in environmentally friendly ways and collaborating with small producers in Brazil and France; last year they made $ 21 million in sales selling over 550,000 pairs of sneakers.
It should be emphasized that out of the 10 positions, 7 are occupied by Nike which, apparently, continues to be the most sought-after brand for sneakers worldwide.