Moncler launches Genius Project 4 Simone Rocha
Plus check our interview with the designer
Throughout the summer and fall, Moncler has been running their innovative and exciting Moncler Genius project, where 7 different contemporary designers have created capsules for Moncler which have been releasing at even intervals. nss has been closely involved and covering each stage of the projects unfurling, starting with the launch event in Florence with Hiroshi Fujiwara, to then continue with Kei Ninomiya, both of which nss had a chance to interview. Then came the turn of futuristic British designer Craig Green, and recently the 1952 collection. The turn has now come to Simone Rocha with her Moncler Genius collection launching September 20th.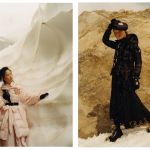 Rocha's capsule was inspired by the concept of
Mountains
, taking inspiration from the Victorian Mountain climbers of the 19th century. Large voluminous silhouettes create a uniform in deconstructed proportions give
a new idea of practical femininity
. The classic Moncler
Down fabric is reinterpreted
in a feminine functional way in Simone's signature colors, red, pink, ivory and black with pearl. The collection features signature
sequin floral embellishment
, collapsing frills, and embroidered flowers, to reflect the flowers and foliage on the mountains, giving the whole collection a feminine whilst futuristic final aesthetic feel. The collection encompasses
garments, sunglasses, bags, footwear,
and
accessories
. The garments are punctuated with
hiking boots in leather
with faux fur tongues and floral toes. Integral to the ranges feeling are the
bags
inspired by the hiking harnesses contrasted with classic Victorian purses, creating a
feminine form of utility
. See the whole collection below: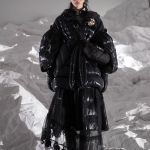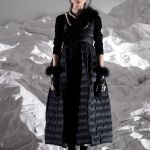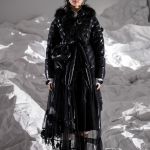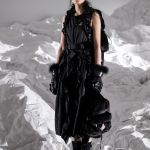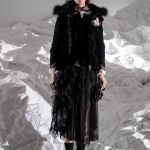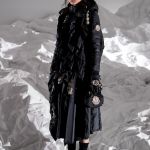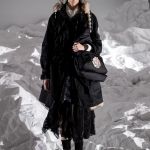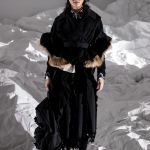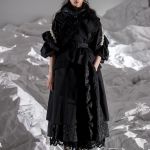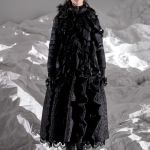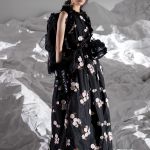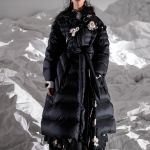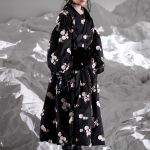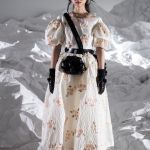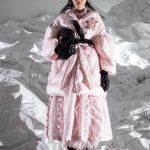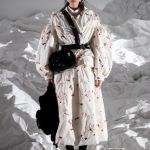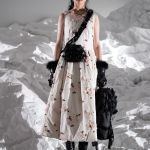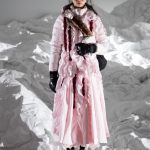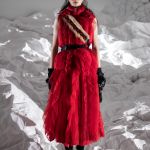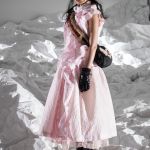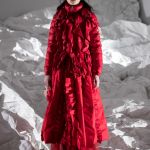 We had the chance to interview Simone Rocha to gain some deeper insights into the collection, see our interview below:
1) Tell us a bit about your first thoughts when being approached my Moncler, what intrigued you about doing a collaboration with them?
Moncler approached me and Mr Ruffini has such an inspirational vision, it was a pleasure to be invited to work with experts in their field.
2) It is always interesting to hear how you start working on a collection that very much looks towards the future while taking reference in such a rich design heritage as Moncler's, how and where did you start?
Originally inspired by the concept of Mountain. My first collection for Moncler has taken inspiration from the Victorian Mountain climbers of the 19th century. This has been translated through silhouette, volume, and structure. The collection explores these ideas whilst entwining the Simone Rocha femininity with the utilitarian practicality of Moncler.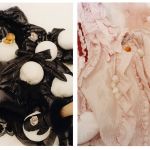 3) You have mentioned that you had images of daring Victorian climbers in petticoats in mind when designing the collection, can you tell us a bit about that, and where it came from?
The original starting point was Mountain – so I did a lot of research into female climbers and found amazing imagery from that era. Female climbers like Josephine Diebitsch Peary, Henriette d'Angleville and Maria de Mont Blanc. The women would go up mountains in full Victorian dress.
4) Do you work with a very clear idea in mind, that you then try to manifest as much as possible, or does the project shape itself more as it goes along?
I wanted to create a uniform of voluminous silhouettes, deconstructed proportions and a new idea of a practical femininity. Fabrication and how it is manipulated and developed is a very important part of the design process
5) What was something that was uniquely special about working with Moncler for you?
Seeing the classic Moncler Down fabric was reinterpreted in a feminine functional way with volume and silhouette.
The Moncler 4 Simone Rosha collection is available at Moncler online and in Moncler flagships now.