The 5 best fashion campaigns with celebrity kids
From North West to Gigi Hadid's career as a baby model
The true contemporary fashion influencers are the kids, and even better if they are the children of some celebrities.
Just go through the posts of Instagram to notice how little fashionistas like @coco_pinkprincess or @fashion_laerta are able to monopolize the attention of thousands of followers, the same that go crazy for every shot of the sons of the clan Kardashian-Jenner, Blue Ivy Carter or Harper Beckham.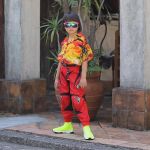 No matter the age (even if younger is better) that they have, your destiny, if you are the son of some American VIP (also works with other nationalities, but not so well), is marked: you will parade for some big brand (the latest trend from Dolce & Gabbana) or you will end up being the protagonist of an advertising campaign.
Any name? Lily-Rose Depp, Kaia and Presley Gerber, Jaden and Willow Smith, Maya Hawke, Lourdes Leon, Dylan Penn, Zoe Kravitz, Frances Bean Cobain, Gigi and Bella Hadid, Paris Jackson, Brandon Thomas Lee, Gabriel-Kane Day-Lewis, Hailey Baldwin, Kendall Jenner, ....the list is almost endless.
The last member of the famous offspring to become a star of an advertising shot is North West which debuts with mom and grandmother for Fendi.
The phenomenon is unstoppable, to better understand it, let's take a look at the 5 most significant advertising campaigns.
North West x Fendi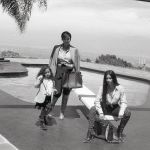 North West, Kim Kardashian's and Kanye West's eldest daughter, debuted as a model and poses for the 10 years of Fendi's Peekaboo campaign with her mother and grandmother
Kris Jenner
.
The girl who is only 5 years old, but looking at her many images in designer clothes that fills the web, it all seems quite normal, portraying the relaxed attitude that shows in the shots of the campaign.
"The idea was to expand the concept of family, as it's part of our history, and we wanted other families of women. In the case of the Kardashians, they are all three of them very strong women, with strong personalities. It's an iconic family, who is known for its appearance, but we wanted to bring more of an intimate side to the table".
Explained Silvia Venturini Fendi adding that the project also includes a video, a short film with the soundtrack of Kanye West, getting the whole family involved.
Gigi Hadid x Guess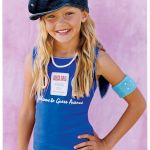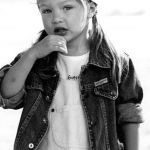 It was 1997 when Gigi Hadid made her debut with her first advertising campaign for the baby line by Guess.
She is only two years old and she is a beautiful blonde girl with pigtails, a bandana, and a denim jacket.
From this shot, it is easy to recognize the lucky genetic kit inherited from mother Yolanda as well as the future as a successful model is predictable.
Remembering that period Gigi told Vogue:
"I went to preschool with the daughter of Paul Marciano of Guess. Our parents became really good friends and he is the one who discovered me. I started shooting Guess Baby and Guess Kids. I don't really remember that much about it but I remember a tent where we'd play games in. Since we were so young, we were only allowed to shoot for certain amount of time. On one shoot, I brought my family dog Gucci on set and he ended up being in the campaign with me".
Romeo Beckham x Burberry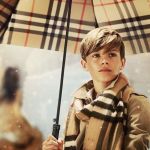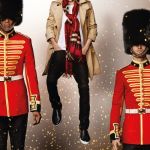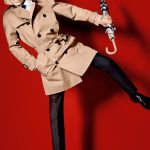 For the SS13 campaign and the 1994 Christmas video of the historic British brand, he chose the then twelve-year-old Brooklyn Beckham.
Smart look, light brown bob, tuxedo and trench coat, the kid seems perfectly at ease, almost amused in the images of Mario Testino.
Dad David and mom Victoria are proud and the other brothers? Cruz and Harper have not yet started their careers while Brooklyn has been the model for Reserved, but is more oriented on a photographer's carrier and has also shot the campaign for Burberry Brit 2016.
Max & Emme Anthony x Gucci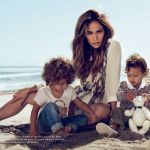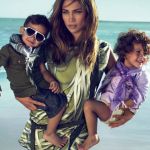 In 2010 Jennifer Lopez and her two-year-old twins, Max and Emme, are the protagonists of the first Gucci Kids advertising campaign.
The shots of Mert Alas and Marcus Piggott, set on the beach of Malibu, have a beneficial effect (in the education of multi-billionaire stars kids there is always the chapter called "giving to the less fortunate"): Gucci, in fact, has donated 1 million of dollars to the "School for Africa" program, through which UNICEF aims to provide African children with a basic education.
Kaia and Presley Gerber x Calvin Klein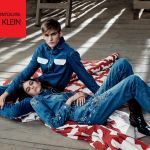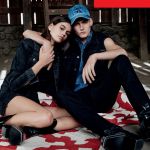 Kaia and Presley Gerber are children of two models, better still their mother is one of the biggest top models on the planet, Cindy Crawford ... Do I really have to say more?
Both are genetically programmed to become models.
Kaia, for now, is the one with the brightest career, but together, brother and sister have been part of the Calvin Klein #MyCalvins campaign.