A-COLD-WALL* SS19 London Fashion Show
Human. Form. Structure
Samuel Ross has been going from strength to strength lately, receiving critical acclaim as a finalist for the prestigious LVMH Prize, and also seeing a large boost in sales the last few seasons. His London show was no exception, putting on his most accomplished show to date.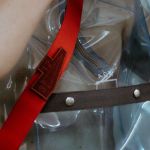 Once again pushing the envelope on his ever
innovative designs of creative cuts and functional details
. The collection titled,
Human. Form. Structure
saw the three concepts examined in different ways throughout the show. Guests were greeted with packs containing protective lab glasses, ear plugs, and building-site style face masks which gave hints to the high spectacle show that lay ahead.
Starting with hooded figures covered in clay that moved in unison along the catwalk prior to the arrival of the clothes. The collection consisted of jackets and tops, from robe silhouettes to see through plastics, all with Ross's signature asymmetrical cuts. Pants, which were the highlight of the show this time, with lots of added details in the form of extra pockets, patches, and colored accentuations. In general, the collection saw a much wider use of warmer color tones, pushing the usual monochromatic ACW aesthetic, introducing beiges, yellows, burgundies, blues and warmer grey tones to the palet.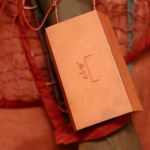 The show climaxed with a
bloodied and naked man
, freeing himself from a large square structure, smashing the walls as he did. A metaphor for the brands' name, which is taken from
the idea of an intersection of architecture and social class
. A very strong showing from Ross, the collection solidified ACW as one of the strongest brands of the moment.
Have a look at the whole collection below.