PUMA and Jay-Z together for the tour of "4:44"
La conferma ufficiale del brand tedesco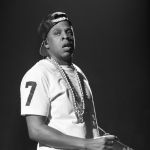 The telltale clue?
An image twitted by Live Nation depicting a large barcode, the logo of the new album by Jay-Z 4:44 and underneath a small group of symbols, including the American flag, the Canadian flag, Tidal x Sprint and PUMA.
Now, however, comes the confirmation of the German brand via Billboard: PUMA is working with Jay-Z on his next tour and on other projects.
"We can confirm that PUMA is working with Jay-Z on his upcoming tour and other collaborative projects", a rep told Billboard in an email. "More details will be shared at the appropriate time".
The sportswear company adds another prestigious artist to its list of collaborations after Rihanna, Big Sean and The Weeknd.
That, as with Fenty x Rihanna, even for the husband of Beyonce and new dad ofCarter and Rumi is about to start a career in the fashion world?
Who knows.
Meanwhile, we expect to have more news on this partnership between Puma and Jay-Z.