Blue Ivy could launch her own line of beauty products
Now that she is no longer the only child will be time for the little Carter to get into the business?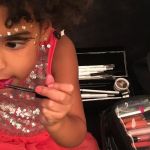 After North West will model for Kim Kardashian and Kanye West next kids fashion line, now it's up to Queen Bey and Jay Z's daughter to enter in the show business.
Little Boue Ivy is only five years old but, according to TMZ, it is planning for her to launch a line of beauty products: fragrances, hair care, cosmetics and more aimed to the children's market.
The gossip site claims that, Beyoncé has applied at the United States Patent and Trademark Office database, to trademark the name "Blue Ivy Carter" in order to use it for fragrances, hair care products and even entertainment services including "live musical performances; production of motion picture films [and] fan clubs". The news is not entirely unexpected since, shortly after her birth, dad and mom Carter had tried to do the same with "Blue Ivy", failing because of a Boston wedding planner who had the ownership of the name.
There is no official confirmation but you know, now Bey is pregnant with twins, two new mouths to feed, so why not increase the scarce family profits putting to work her first child?