Marc Chagall, Ottavio Missoni. Sogno e Colore
@ Museo Archeologico, Sesto Calende
After the success that involved the entire family last year with Missoni, Art and Colour at the MAGA Museum in Gallarate, Missoni continues its dialogue with the art world.
Marc Chagall, Ottavio Missoni. Dream and Colour, curated by Luca Missoni, compares the two masters of colour through paintings and tapestries, fabrics and canvas, paintings and knits, in a multidisciplinary itinerary which highlights the extraordinary affinity and the innovative impact of their works.
The two not only have in common the passion for colour in all its forms: they both were exiled for a period of their lives. Ottavio Missoni was born in 1921 in Ragusa di Dalmazia and spent his teenage years in Zara, a war prisoner in Egypt for four years and then exiled with his family in Trieste. Marc Chagall was born in 1887 in Vitebsk, Belarus, from a Jewish family, and after having acquired his French nationality was forced to emigrate to the United States because of the Nazi persecution.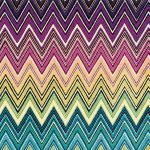 The nomadism of their existence has stimulated the eclecticism of their works: "The colour is an integral part of my DNA," said Ottavio Missoni. "From Dalmatia and Ragusa I brought with me the blue, and the red and orange of the sunsets on the Adriatic; the warm yellow and brown talk about rocks and sands, eroded by the waves. Blacks cannot miss, they amalgamate. And then the purple, my favorite colour, in all its nuances. Even if you don't notice it at first sight, it is always present."
A tribute to the chromatic and dreamlike atmospheres of two revolutionary artists who, if had the chance to meet, would have certainly collaborated to something visionary.
Marc Chagall, Ottavio Missoni. Dream and Colour, will be on display from October 21 to December 31, 2016 at the Archaeological Museum of Sesto Calende, Varese.