Ai Weiwei's Exhibition in Florence
@ Palazzo Strozzi
Free. Free to express his own ideas, free to make his art with no restrictions, and, since the Chinese authorities have given him his passport back, finally free to travel again. Yes, because Ai Weiwei, provocative and controversial Beijing-born artist amongst contemporary art's preeminent exponents, labelled as 'enemy' to the government, has been for far too long a slave to the severe Chinese politics, having faced censorship, a terrible arrest, torture, and even exile.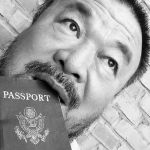 Now he's back with a retrospective held at Palazzo Strozzi, Florence, which focuses on human rights. And even before entering the actual exhibition, his intentions are declared out loud. In fact, the attention is immediately brought to the tragic situation of migrants and refugees, who daily cut through the Mediterranean sea hoping for salvation, through an installation made of a series of red rubber boats covering Palazzo Strozzi's façade. The work's entitled Reframe and it certainly didn't go unnoticed by Florentine passersby, who immediately reacted in a pretty argumentative way. Like it or not, though, we can not say that the work doesn't hit the target, getting straight to the conscience of all of us.
The exhibition itself will be a journey through installations, sculptures, objects that are emblematic of the artist's career, photographic series and videos – all with a strong political connotation. We start from the New York period, the crucial 1980s when Ai Weiwei discovered Andy Warhol and Marcel Duchamp, and we get through monumental installations and assemblages of materials, ending with openly political artworks such as the LEGO portraits of political dissidents.
The exhibition Ai Weiwei: Libero will be held at Palazzo Strozzi, Florence, until January 22, 2017.