Wes Anderson & Sneakers
The aesthetic imagery of the American director meets the sneaker world
Two universes apparently a million miles away from each other meet in a series of delicate, elegant and colorful illustrations. The aesthetic of the movies of Wes Anderson meets the sneaker world.
To come up with this idea was Ilaria Colombo, a 23-year-old graduated in Fashion Design at Politecnico di Milano, who wanted to blend two of her own passions.
I've always been fascinated by the colors and the nuances of Anderson's films, details that make his work immediately recognizable and interesting. I decided to throw in another big passion of mine, sneakers, taking inspiration especially from the colors.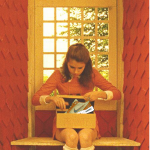 In the background of Wes Anderson's biggest cult movies, from Grand Budapest Hotel and Moonrise Kingdom, to Fantastic Mr Fox, stand out the most hyped silhouettes of the moment, like the Nike Air Monarch, the Nike Air Max 95, the Nike Air Max Tn or a timeless icon like the Jordan. Above all are especially the colors and the different hues the details reflecting the encounter of these two worlds: the red beanie worn by Bill Murray in The Life Aquatic with Steve Zissou is mirrored in the red Swoosh of the shoe, the pink and blue shades of the Mendl's bakery where Saoirse Ronan works in Grand Budapest Hotel are reworked in the Air Max Light 2, while the colors of the bathroom of the Tenenbaum mansion match the ones of the Nike M2K Tekno.
The outcome is magnetic and fascinating, just like a Wes Anderson film.