Hello Kitty isn't actually a cat
Shocking news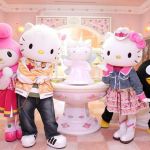 Pills
September 1st, 2014
Hello Kitty is not a cat.
She' s Kitty White, a young English girl, daughter of George and Mary, is the sign of Scorpio, loves apple pies, attends the third grade, has a twin sister named Mimmy and has a cat named Charmmy Kitty.
At least it is according to Christine R. Yano, anthropologist and author of the book "Globalization Pink: Hello Kitty's Trek Across the Pacific". She wrote it in a text to introduce "Hello! Exploring the World of Hello Kitty Supercute," celebratory exhibition that will open in October in Los Angeles and will trace the history of the character created in 1974 by Yuko Shimizu.
Just a few lines to bring down the certainties: Hello Kitty is not the little cat without a mouth and with red bow over her left ear which we all believed.
Interviewed by LA Weekly the researcher explains that she was convinced too, but a clarification of Sanrio, the Japanese company that produces the darling, made her change her mind: "I was corrected very firmly.Hello Kitty is not a cat. She's a cartoon character. She is a little girl. She is a friend. But she is not a cat. She's never depicted on all fours. She walks and sits like a two-legged creature. She does have a pet cat of her own, however, and it's called Charmmy Kitty."
All hell broke loose. It took forty years full of all sorts of gadgets, video games, clothes worn by Lady Gaga, sculptures by Tom Sachs, amusement parks, and so on, and so forth, before arriving at the truth. The news is shocking and a journalist of RocketNews24 calls to Sanrio looking for confirmation. OK. Hello Kitty is not a cat, but even a girl. She's in fact a "gijinka", says the company, which is a personification, an anthropomorphism like Mickey Mouse. Better still is a character that produces an annual turnover of around one billion dollars, known and recognized all over the world, loved and hated, that after forty years it still manages to be talked about.