The Best Ramen in the World
The one made by Ichiran restaurants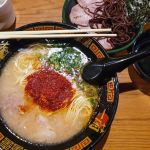 The biggest Japanese ranking website, Goo Ranking, has put together the list of the best-tasting ramen in the world. At the top, there is Ichiran's ramen, followed in the second place by Tenkaippin and in the third place by Sugakiya. The list is not based on the opinion of food experts, but on the votes received from the public.
First, on a total of 55 restaurant chains, Ichiran gained the first place only by 21 votes (261 against Tenkaippin's 240). Segakiya follows with 155 votes. Born in Hakata, Japan, in the past few years Ichiran has seen relatively significant growth, establishing more than 80 locations worldwide, even in New York, all of them open 24/24h; its special plate is savoury Tonkotsu (pork bone-based) ramen. Tenkaippin (nicknamed "Tenichi") is specialized in Tonkotsu broth, too: the first restaurant was opened in Kyoto, but today it has more than 230 locations in both Japan and Hawaii. Then Sugakiya, born in Kansai, is worldwide famous not only for the quality of its ramen but also for being the most affordable: its ramen costs for as low as ¥330 JPY (approximately €2,50).
None of the top three, though, has locations in Europe. To taste good ramen without going too far from home, you have to go deep on the list and reach Ippudo, that has a restaurant in London. Other chains like Korakuen, Ringer Hut (that takes its name from Pizza Hut), Mengko Tanmen Nakamoto and Marugen Ramen trail behind the top three.