Twitter went crazy over Al Pacino's iPhone case
Apparently the actor is a fan of Shrek.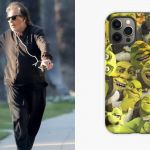 Two days ago, Jason Momoa posted a carousel on Instagram composed of photos taken during an exhibition dedicated to Julian Schnabel at the Pace Gallery in Los Angeles, which was followed by a dinner with friends in which Al Pacino also participated. Just in the shot of the dinner, you can see that Al Pacino's iPhone has a cover with a collage dedicated to Shrek - detail that has not escaped the scrupulous audience of Twitter and the social media producer Marie Bardi who posted three versions of the photo progressively zoomed, posting later in the same thread her discovery: a $ 12 iPhone case on Amazon entirely dedicated to Shrek.
The huge public reaction to Bardi's tweet, which racked up 21. 900 likes and more than 1600 retweets in not even two days, was certainly fueled by the relatability that social users felt towards the actor but also by the fact that in recent years Shrek has become an icon of meme culture with a legion of fans known as "Brogres" as well as with the ultra-viral video Shrek Is Love, Shrek Is Life born on 4Chan and then spread on Facebook that created an entire subgenre of increasingly surreal memes for years to come.