9 Ways to Support The Black Lives Matter Movement from Italy
A list of important resources to help regardless of where you are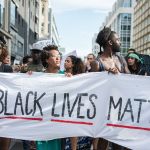 Since the murder of George Floyd a week ago in the United States, there have been numerous anti-racist protests in major cities in the United States and around the world. From Washington to London, from Berlin to Paris a huge number of activists gathered to call for justice against the four American policemen who made this heinous act possible. The movement is not limited to physical protests, but includes major online initiatives, petitions, and fundraisers in support of protesters, members of George Floyd's family, and other anti-racism nonprofits. On the contrary, it cannot be emphasized enough as for these initiatives, often organized by the communities themselves and therefore with clearer and more precise goals than the institutional institutions, any donation helps much more than any post or message of solidarity on Instagram – especially if you can not be physically present at the protests.
For this reason, nss magazine has composed a list of resources to support this cause, not only for the case of George Floyd, but also for those concerning the cases of Breonna Taylor, Ahmaud Arbery as well as for other organizations fighting racism and police brutality in the United States.
Petitions to sign
Justice For George Floyd is a petition to sign in support of George Floyd , who was murdered in Minneapolis by police officers, signing this petition helps to gain the attention of the city's Mayor for the arrest of the police offers.
Raise the Degree is a petition to sign to raise the degree for the charges of officer Derek M Chauvin — the police officer seen kneeling on George Floyd neck — to first degree murder.
Ahmaud Arbery - a petition to sign in support of Ahmaud Arbery , another black man that was murdered by white supremacists in Georgia USA, only a few weeks ago, that will help in the arrests and charge for those involved.
Breonna Taylor was an unarmed American woman murdered by a police officer while sleeping in her home in Louisville, Kentucky USA, a few weeks ago, this petition is in aid of firing and arresting the police officers involved.
Donations to make
Support the family of George Floyd by donating to cover funeral costs , counselling and the creation of a memorial .
As many are out in the streets protesting , many are being arrested, here's a list of funds that will help in the bail of protests who have been jailed.
Donate directly to the Black Lives Matter movement.

Donate with no money
By watching this video, and the other videos that follow after it without skipping the ads, it supports the fundraisers for the Black Lives Matter movement as well as the funds for the bail of protesters who are arrested.
Join the protest this Friday , June 7th , in Milan Centrale in support of the Black Lives Matter movement.
For more information on how to help, visit Black Lives Matter Card.