Spike Lee debuts a short movie in memory of George Floyd
Featuring George Floyd's infamous arrest video and scenes from 'Do the Right Thing'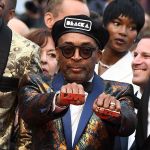 Among the voices that spread all over the world following the killing of George Floyd, the last one to speak up is Spike Lee. The director debuted on his Twitter account a short movie entitled: 3 Brothers-Radio Raheem, Eric Garner And George Floyd, spotlighting videos of the murder of George Floyd in Minneapolis and of Eric Garner in New York, back in 2014, in addition to the scene of the death from his most famous film Do the Right Thing (1991).
The 1-minute and a half-short movie starts with an important question: "Will History Stop Repeating Itself?" Then it goes on with the 2014 real video in which the 43-years-old Afroamerican man Eric Garner was arrested and strangled by a New York police officer in the middle of the street, in the public eye. Then it follows with some frames from the famous Do the Right Thing riot scene, in which another police officer kills the main character Radio Raheem (Bill Nunn). The short film ends with the infamous video of George Floyd's death, scanned by his words: "I can't breathe".
This is not new, said the director on an interview with CNN, when he debuted the short movie. We saw with the riots in the 60s, the assassination of Dr King, every time something jumps off and we don't get our justice, people are reacting they way they do to be heard … We are seeing this again and again and again … This is the thing: the killing of black bodies, that is what this country is built upon.
This is not the first time that the United States has to face similar episodes of insurgency, in confirmation that racism is still alive in many American citizens (and not only). The choice to combine the real-murder videos to the frames from Do the Right Thing is emblematic because the plot of the movie (that was first released in 1989) was actually identical: the strangling of an Afroamerican man by a police officer, his death and the explosion of violent riots.
Considered to be one of the greatest Afroamerican directors in the world, Spike Lee is always the first line in the fight against racism, discrimination and violence. He has directed some cult movies as Do the Right Thing, Malcolm X and BlacKkKlansman; from June 12, 2020, he will land on Netflix with his latest film Da 5 Bloods, starring Chadwick Boseman.