Find your perfect match for binge watching GoT
If you are a Game of Thrones fan GoT Binger Tinder is for you
After seven seasons and eight years of spoiler fears, starting next week Game of Thrones is going to end its tv saga.
No more "Hodor", "Winter is Coming" and "Valar Morgulis" but above all no more GoT-nights. Because, for me - and I believe for many GoT fans - watching Game of Thrones is not just watching another tv series, it's more a social happening where I met friends share a dinner and a social occasion. I think that's what set GoT apart from other tv series: it's used by the fans as a social aggregator both online with forums, group chats, telegram channels and offline.
Now that streaming services gave the chance to watch a series according to your schedule, we tend to consume entertainment products alone or just with a second screen as a partner.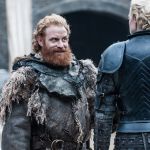 Since we are all GoT fans here at nss, we think about how to make the last GoT season memorable for everyone, so we took the opportunity to build the Game of Thrones Binger Tinder. Inspired by the famous dating-app, the Binger Tinder will match GoT fans in their own city with similar tastes in order to organize your own social GoT watch night.
Just a few steps:
1. Register and geograpical locate the city in which you are
2. Answer the questions to profile your type of GoT fan
3. Find the matches in your city and contact them via email to organize a watching session