Football according to Matilde Gioli
We spoke to the Italian actress during the event for the 20th anniversary of the collaboration between Nike and Inter
At the event to celebrate the 20th anniversary of the collaboration between Nike and Inter that took place a few days ago at Slam Jam Milan, sitting next to Marco Materazzi, visibly excited, there was Matilde Gioli. Behind the wide smile and the big blue eyes of the Italian actress become famous with the movie Il Capitale Umano, hides an Inter diehard fan, a family passion.
Matilde, 29 years old, with a degree in philosophy and past in synchronized swimming, is one of the most talented and promising actors of her generation, while at the same time trying to become a positive model for all the girls that follow her, especially on social media, first and foremost her younger sister. In the images shot by Toni Brugnoli, against the background of San Siro stadium, Gioli brings into life the new mash-up jersey that celebrates the partnership between Nike and Inter.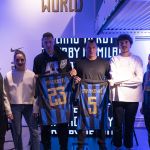 During the event we had the chance to sit down and chat with Matilde, here's what she told us.
#1 Hi Matilde. You are one of the protagonists of the images that celebrate the collaboration between Nike and Inter. How did you end up modelling with such an important jersey for you?
I was involved in the project by chance, I would say. I was at lunch with some guys that work at Nike, who are in charge of the area that deals with the collaborations with celebrities. They knew me as an actress, they had no idea that I was such a football fan. When they understood my passion we decided to work on a series of projects together. The basic idea was to change the perception of the football jersey, to involve more women, even those who aren't necessarily football fans or football players, but also women who do a completely different job, for example an actress like me. I found this idea brilliant, even because I can't think of another football team that has worked with personalities coming from other fields and industries, and this for me is important because it's a message that helps to reason in a different way. Things can intertwine and blend.
#2 So in your opinion this campaign is proof that the football world is increasingly opening towards the female audience.
Yes, absolutely. I often go to the stadium to see the matches, and they are full of women, some of which are also very expert. It's like saying that women are bad drivers or that they can't park, these are just stereotypes and prejudices really established and deep-rooted, it's hard to change them. Something like this can help a lot, though. Giving the possibility to someone like me to sit between Materazzi and Stanković instead of the classic male Inter supporter to talk about football, well for me it's a powerful message. Of course, I won't be as prepared as a journalist, but I've been following Inter since I was a child, I think I have the same rights as a male fan.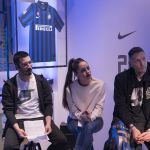 #3 Does sport play a prominent role in your life? Was it important while growing up?
Sport for me was fundamental. One of the darkest moments of my life was when I couldn't do any sport because of an injury - I had a back issue -, I had to stop for a year and a half, that was a tough moment. There's who does sport to lose weight or to tone up, behind my choice of doing sport there's always been the research for the moment of peace and pleasure that adrenaline, endorphin and dopamine give you. I've become immediately addicted to these three drugs since I was a child I've always linked physical activity with moments of great wellness. My experience in synchronized swimming, which I practised competitively, therefore the experience of a team sport, all female, in addition, has definitely made me grow up very much.
#4 Right now Nike is focusing a lot on the female sport, that is finally narrated in a new way. Can you feel this type of change?
I sense a big change, for me it's new because I've never been involved to this degree, and I can do it thanks to my job, but I try to think as a spectator too. So both as a representant and as the audience, I can tell you that something is going on, something that has never happened before.
#5 This June the anticipated Women's Football World Cup will take place. In your opinion, is Italy fully comprehending the significance of this event?
For me not enough. But with this rhythm, and maybe if also other football clubs will decide to concentrate more on the 'female' part, the World Cup will be followed in a completely different way, much more participated.
Matilde Gioli reflects the current change within the football and the entire sports world, that over time will eventually become reality.