SPACEDELICIOUS by TNT - Back to Italian taste
The famous italian restaurant Cipriani opens its doors to Maurizio Tentella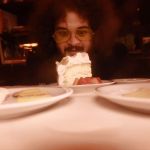 Home sweet home!
After a long journey through LA exotic dishes, it's finally time to go home, back to Italy. Tasting again fresh home-made pasta has no prize, feeling again the flavour of good seasoned cheeses takes you back immediately to the old good traditional cooking.
Set inside MrC. Beverly Hills Hotel, the well-known italian restaurant Cipriani welcomes Maurizio Tentella in the best way possible: fresh burrata, gratin tagliolini and its historic meringue cake, pride and excellence of the restaurant since 1929. Coffee, bitter and go!
Nothing's like home, nothing's like Italy.