SPACEDELICIOUS by TNTeaT - Thank you Los Angeles!
Made special for Pink's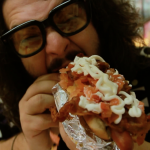 Pink's is the hot dog paradise, a tiny little hide place in the majesty of Los Angeles that, with its tasty chips completely submerged by melted cheddar and its extra large würstel, was able to attract the taste buds of Maurizio Tentella.
That's the right way to conclude the amazing trip of SPACEDELICIOUS by TNTeaT - Fuga a Los Angeles: an incredible experience that went through tasty fried donuts and magic salty breakfasts, where Maurizio pampered himself wth bacon mini topping and succulent hot dogs covered by the crazy local source.
Let's make our eyes and our stomach dream hard!
Thank you Los Angeles!