SpaceX launches a pair of telecommunications satellites
With this project Elon Musk combines Tesla and SpaceX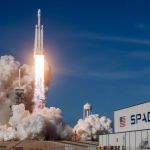 Pills
February 15th, 2018
Just last week, SpaceX launched a Falcon Heavy, the most powerful rocket since Saturn V that had brought the Apollo astronauts to the moon, and is now preparing to repeat the experiment.
This time to take off will be a Falcon 9 with the main objective of bringing a telecommunications radar of the Mexican PAZ into orbit, but also a Microsat-2a and a Microsat-2b.
These, which will be placed each in a non-geographic circular orbit at 1,125 km from the Earth's surface, are the first of more than 4,000 satellites, part of the Starlink project, aimed at creating the most ambitious and widespread Internet infrastructure ever designed.
The purpose of Elon Musk? Provide broadband internet connectivity at every point of the globe and create a synergy between his two primary companies, SpaceX and Tesla.
The launch of the Falcon 9 is scheduled for Saturday, February 17, 2018 at 3:17 pm (Italian time) from the Vandenberg base in California.