Rihanna's Side Effects
New RiRi's Album Cover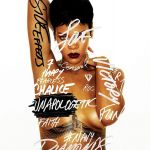 Il 27 Novembre Rihanna lancerà il suo settimo album studio, 'Side Effects', in cui collabora con Stargate, Sia e molti altri; il tutto ad appena 24 anni.
Ieri è uscita la cover ufficiale, piace?


On November 27 Rihanna will release her seventh studio album, 'Side Effects', in which she features with Stargate, Sia and many more; and she's just 24.
Yesterday the ufficial cover came in, like?