The Eutópia Arena opens the summer season with the School Is Over concert
On 11 June in Nola, Coco and Yung Snapp join a Made in Naples party
The 11 June concert at the Container Arena Eutòpia, School Is Over, celebrates the start of the holidays together with well-known names from the Neapolitan rap, trap and hip-hop scene, including Yung Snapp, Coco, Lele Blade and Enzo Dong. The space, inaugurated this year by a dedicated performance by Clementino, will host events and concerts for the entire duration of the summer months at the centre of a semi-permanent, multi-purpose installation, the outer walls of which offer a museum space for Urban Art that will display various "suspended" artworks directed by Foll.ia.
The Eutòpia Arena was created as a work of art inspired by futurism. Equal in size to Naples' Piazza Plebiscito, the large video area represents great artistic potential for concerts, as well as exhibitions and DJ sets. Arranged in the shape of an amphitheatre, the shipping containers that make up the structure have been used on the basis of sustainability and reuse, and will soon host a restaurant space, as well as an enterprising succession of art installations outside.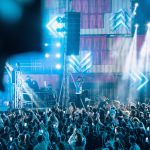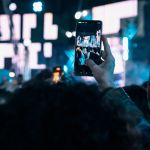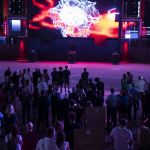 The School Is Over concert will start at 9pm with doors opening at 7.30pm from Piazza Capri. Tickets can be purchased on the Vulcano Buono website, Go2 and Ticketone.