Just Fire Mixtape Vol. 20 to celebrate summer's arrival
With cover artwork by Eleusi
Today saw the release of the 20th volume of Just Fire Mixtape, the project launched by Bravi, Ignorance and Wolsha that celebrates the union of music and art. This time, the founders have created a concentrate of freshness and frenzy, perfect for the arrival of the hottest season of the year. It's time for outdoor dinners and aperitifs, parties under the stars and fun, and the new Just Fire Mixtape is the right soundtrack to enjoy every second of all your new experiences.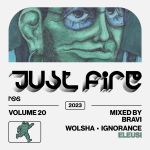 Like every edition of Just Fire Mixtape, the 20th volume contacted a unique artist to create the artwork accompanying the new playlist. Eleusi's dreamlike artistic vision takes us to another universe, transferring the notes of the mixtape into colour.
You can listen to the 20th Just Fire mixtape now by clicking this link.