Just Fire Mixtape Vol. 18 gets the Christmas magic going
With an event on 16 December at the Arca in Milan
Just Fire Mixtape, the project created by Bravi, Ignorance, and Wolsha, enters its eighteenth round and is available today. The magic of the holidays is upon us, and before heading into the Christmas break, it's only right to celebrate in the best way possible: with dancing.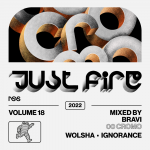 The eighteenth volume is in fact dedicated to the event that will take place on 16 December at the Arca in Milan, where, in collaboration with Panorama Milano, the 00 Just Fire Live event will be held from 6 to 10 p.m. with DJ and an exhibition. The evening is themed "Chrome" and takes us into the world of the club with fantastic figures, lettering, and melting smiles.
You can listen to the 18th Just Fire Mixtape right now by clicking on this link.