Just Fire Mixtape Vol. 21 is ready to send you to holiday
With special guest MURAMA
Summer has long since begun, the streets are emptying as well as your office. Only a few hours, or maybe a few days, to go, and you will finally be on vacation. Have you packed your suitcase yet? If you have yet to choose the soundtrack for your weeks of summer idleness, then we have just the thing for you with Just Fire Mixtape, the project launched by Bravi, Ignorance, and Wolsha, now in its twenty-first installment available as of today.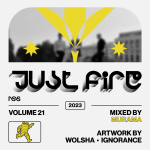 The guest of this event is MURAMA, the project born from the union of DJs and multi-platinum producers Valentino Martina, Giuseppe Delli Santi, and Luca Bravi. With behind them releases on labels such as SPINNIN REC, MAD DECENT, and DIM MAK and supported by artists such as Diplo, Skrillex, The Chainsmokers, and DJ Snake, in the last year they have been working on this new project based on sounds that move mainly on organic - melodic releasing their first track "Again in the jungle" and with an EP ready to be released in September.
You can listen to the twenty-first Just Fire Mixtape now by clicking on this link.