Just Fire Mixtape Vol. 15 presents "La Fiera"
June 23 at Dada Bar in Milan
Just Fire Mixtape, the project launched by Bravi, Ignorance and Wolsha, reaches its fifteenth date available now. With the heat advancing, the only way to cool off is to press play and let the sound of what has now become your favorite date play.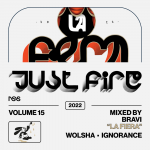 This time things are even more exciting than usual thanks to "The Fair", the format that will bring together some of the guests from past mixtapes. Ignorance, TBoy, I'm a Teenager, Eccetera and Demterio Mese will transport us to the world of the club among fantastic characters, lettering and melting smiles.
See you June 23 at Dada Bar in Milan, but while you wait you can listen to the fifteenth Just Fire Mixtape now by clicking on this link.