Just Fire Mixtape Vol. 14 brings spring air
The guests of this installment are Los Cinquanteros
Just Fire Mixtape, the project launched by Bravi, Ignorance and Wolsha, arrives at its fourteenth installment available now. The beautiful season is here, get out of the house and take a ride in nature with the right soundtrack. The secret is this, press play and let yourself be carried away by the rhythm.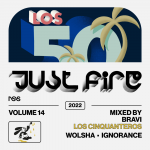 The guests of this installment are Los Cinquanteros, where they are there is a party. Big Cinquantero, Young Cinquantero and Fake Cinquantero love the good life, disco music and dinners out of budget. House, Italo disco, funk: their set ranges between genres following only one rule, that of the most ruthless groove.
You can listen to the fourteenth Just Fire mixtape right now by clicking this link.