Coachella was postponed until October due to coronavirus
Another appointment postponed due to the pandemic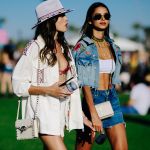 While Italy adapts to precautionary measures to avert the pandemic and the rest of Europe is not entirely sure how seriously to take the emergency, the threat of coronavirus has just landed in the United States but only now is beginning to arouse some concern. One of the first egregious victims is Coachella, perhaps the most famous festival in the world, which had to postpone the 2020 edition to the week of October 9-16. It's a more than understandable move considering that last year the festival attracted more than a hundred thousand people from all over the world to the same restricted area.
The festival line-up, which was to include Frank Ocean, Travis Scott and a Rage Against the Machine reunion along with Charli XCX, slowthai, Thomas Yorke, Flume, 21 Savage, Lana Del Rey, Lil Uzi Vert, FKA Twigs and Lil Nas X could undergo changes, but organizers have not specified what changes will be made. Meanwhile, news of Coachella's postponement has provoked several reactions online, of which the best is surely that of Elon Musk who has dealt with the situation with caustic sarcasm.
Coachella should postpone itself until it stops sucking

— Elon Musk (@elonmusk) March 10, 2020
Festival organisers have already pointed out that all payers who will not be able to participate in the first autumn edition of Coachella will be reimbursed in full. There will be no problem filling the empty seats, however, given the huge popularity of the festival. And you can also assume that, given the contiguity of the new edition with Halloween, we will also see the style of the festival change with the season.