The Italian date of FKA Twigs' tour
Tickets for Milan concert are available on the DICE app
Music
September 26th, 2019
FKA Twigs is about to come back. Finally, on October 25th she released her second album, the follow-up to the successful LP1. The project, entitled MAGDALENE, like the biblical figure of Mary Magdalene, was composed over three years, in a difficult period for the artist, characterized by a break-up and a surgery to remove a tumor in the uterus. The artist herself talked about this rough months in an interview, saying that the work was almost cathartic and that it is dedicated to "every lover that I've ever had, and every lover that I'm going to have." A few weeks ago twigs also unveiled the artwork of the album, a slightly creepy portrait of her made by Matthew Stone.
MAGDALENE is mainly produced by the FKA herself but sees the collaboration of artists with the likes of Nicolas Jaar, Skrillex, Jack Antonoff and Future. The Atlanta rapper appears on the track Holy terrain, the second single extracted (following Cellophane) and in the new video that has already reached over a million views on YouTube.
Recently FKA Twigs has announced a tour, which will arrive in Milan on November 29 at Fabrique. The concert will be a must-see event to attend, as the show is filled with amazing sounds, performances, costumes, pole dance, Wushu, sets and lights. Tickets for the live show are available on DICE, the famous English ticketing and music discovery app that enters the Italian market for the first time. The technology of the platform is an effective tool against secondary ticketing. How? In three ways: tickets are available two hours before the live show only on your own phone, with two authentication steps and "animated" tickets. Waiting lists that are activated in case of sold outs and refund procedures eliminate the need for resale. In addition, the app can monitor and ban anyone trying to "scam" the system.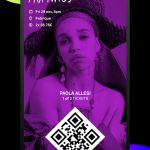 To join the community of DICE, download the APP on iOs and Android.
At this link you can pre-order the album, below you can find the tracklist of MAGDALENE:
1 thousand eyes
2 home with you
3 sad day
4 holy terrain ft.Future
5 mary magdalene
6 fallen alien
7 mirrored heart
8 daybed
9 cellophane