The women of Italian trap music
From Chadia Rodriguez to Beba and Priestess meet the female artists shaping the current Italian trap scene
The fact that in Italy trap music is very popular is no longer a novelty. It all started with Sfera Ebbasta who, with his album XDVR (2015), moved the attention of the general public on his Cinisello Balsamo and neighborhood life, on the violet syrup and all the other hot topics of the trap scene. The rest is history. So it was that the doors to success were opened also for all the other rappers like Ghali, Tedua, Dark Polo Gang and so on, some were real revelations, many other meteors that have ridden the moment. So we arrived in 2018 with a good handful of trap artists who brought the genre to the maximum success in Italy. Now, only one question comes to my mind: where are the women?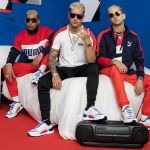 We know, in Italy the rap/hip hop world has always been a minefield for the fair sex, because of of a certain machismo that still affects the scene and threatens to underestimate the contribution that women can give to this genre, often considered a game for men who compete for those with the longest verse. However, this does not mean that there are no women in the Italian trap. On the contrary, they are many, fierce and worthy of our attentions. Over time they have worked their way through various themes and aesthetic codes typical of the trap, including drugs and "bitches", camouflage suits and a linguistic register that now characterizes most of the pieces of the genre. Armed with auto-tune and all the necessary baggage, these girls have been able to adopt a style that for too long has been considered an exclusive masculine, in Italy as abroad, however, without simply mimicking their colleagues, indeed bringing a breath of fresh air into the scene with new points of view and new themes, such as awareness of their own body, feminism and life in a society that is still too sexist. Not only beautiful looks and a "Cardi B-like" attitude to show off on Instagram, our heroines offer an all-female interpretation of everyday life, from simple heart problems to the dynamics of the music industry and the rap scene, always with irony and sharp rhymes. Maybe it's still early to talk about a real female trap phenomenon, but there are already all the conditions to start talking about it seriously.
The first that has shifted the attention of the general public to women is surely Priestess. Already known in the Italian hip hop scene, the Apulian rapper, stage name of Alessandra Prete, born in 1996, has taken everyone by surprise with her melodic rap that talks about going out with her friends, problems with boys and weed. Her first two successful singles Maria Antonietta and Amica Pusher are proof of this, a sort of open diary to her daily life and her most intimate thoughts, far from bad girl poses, rather a reserved friend who at the right moment knows how to inflame the stage. In 2017 she took on the role of Liberato on the stage of Mi Ami with Calcutta, IZI and Dj Shablo, she collaborated with Gemitaiz and Madman, and a year ago she released his first EP Torno Domani. Last October she opened the Pusha T concert at Fabrique in Milan, while recently she returned in our playlists with two new singles, Eva and Fata Morgana, which once again confirm her talent as rapper.
If you have not already done it, you must absolutely start to follow Chadia Rodriguez. Twenty years old, born in Spain, but raised in Turin, Chadia Rodriguez is the trapper that Italy needed. Pissed off enough, outspoken and with an explosive mixture of street attitude and provocative poses, Chadia Rodriguez started to conquer popularity in a short time, thanks to a handful of singles in 2018, released by Sony Music, who immediately catapulted her into the spotlight. Pieces like 2.0 Bitch and Sister (Pastiglie) are confirmation of how much Chadia Rodriguez deserves the crown of Queen of Trap, and her new single 3G, featuring Jack La Furia and produced by Big Fish, could be the definitive launching pad for success - also thanks to a video in black and white with all the right trends to impress.
Let's go to Pescara where we find Lisa Cardoni, better known as Leslie. Last April she made her entry into Universal with the song Oh My Goodness, but already from her first singles on YouTube is clear the grit of this rapper. Openly gay, Leslie is one that focuses on content and not on appearances: her rap is raw and direct, like her style, little "glamorous" and allergic to poses as an Instagram star. If her old school attitude may not immediately catch your attention, just listen to her tracks online to confirm what I have just told you.
The list of female rap continues. We find the Turin-born Beba, emerged in the rap scene in 2015 with Joker Mixtape, but only recently has gained considerable visibility with the tracks Chicas and 3ND, two very "girly" pieces that come into the head from the first listening. But do not be fooled by her "Barbie style" and trendy clothes, because Beba has nothing to envy to the flow of her colleagues, as demonstrated by her freestyles on YouTube and her new single Groupie produced by Lazza.
Also mark the name Comagatte, a rapper from Puglia active in the rap scene since 2010. Her name is perhaps unknown to many, but her latest single Limbo Calypso has all the potential to fully enter your favorite trap pieces: captivating beats, Caribbean rhythms and a text full of phrases that you can use for your caption on Instagram. Maybe not her best piece, surely the one that most rides the wave of the trap scene, but if you want the proof of the potential of Comagatte you just need to groom her YouTube channel to confirm it.
I would also recommend Martina May, recently released with a featuring Masamasa for the single Bla Bla Bla, McNill, rapper from Umbria, as well as activist for LGBT rights and gender equality, and the Eritrea rapper Doris who debuted with the song VSXI last January.