Gué Pequeno's latest album becomes a TV series
From November 21 on TimVision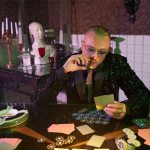 Music
November 12th, 2018
Gué Pequeno like 50 Cent. The former Club Dogo will be among the protagonists of "Sinatra", miniseries exclusively for TimVision inspired by his latest album, a work "all killer, no filler" co-signed by the producer by Charlie Charles full of hits like the single Bling Bling that contains the sampling of Oro di Mango and of which the shining video has just come out.
The new project of the artist ever more ready to conquer the Italian mainstream pop market will be divided into three episodes, all set in Naples and available online on Tim's TV on demand on November 21st, November 28th and December 5th.
Stay on nss to find out more details on "Sinatra" the tv series.