Childish Gambino drops new video "Feels Like Summer"
With the likes of Drake, Kanye West, Nicki Minaj, Travis Scott and Michelle Obama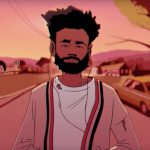 Music
September 3rd, 2018
After the short film for This is America went viral, Childish Gambino aka Donald Glover returns with the video of the single Feels Like Summer.
To launch the new single, the rapper has created a cartoon full of celebreties, directed by Glover himself with Ivan Dixon and Greg Sharp and illustrated by Justin Richburg.
In almost 5 minutes the most important artists of the hip-hop world make a cameo: from Rihanna to SZA, from the Outkast to Beyoncè, from Gucci Mane to J. Cole, from Drake to Future. Will Smith is washing a car on the driveway, while his son Jaden plays with Chance The Rapper. The Weekend, Ty Dolla $ign and Frank Ocean are playing tug-of-war against A$AP Rocky, Solange and Willow Smith. Nicki Minaj and Travis Scott, who currently have some beef due to some tour and album drama, are portrayed as children playing together: Scott is the spiteful kid who ruins Nicki's castle.
The visual includes also appearences of more controversial celebs. Chris Brown holds his face in his hands, while a crying Kanye West wearing the Make America Great Again cap is hugged and consoled by Michelle Obama.
Have a look at the video here: