"This is America": Childish Gambino denounces the violence of US society
The police brutality and the epidemic spread of firearms in the video of the song directed by Hiro Murai
Donald Glover plays the role of Childish Gambino for the last time.
One last record and the eclectic artist will say goodbye to his musical alter ego, but before putting an end to this project, the boy is determined to leave his mark.
It does so with the new single This is America, a song strewn with small cameos by Young Thug, 21 Savage, Offset, Quavo and Chance the Rapper, SZA and accompanied by a video that has shaken the conscience of viewers, becoming trend topic in social media.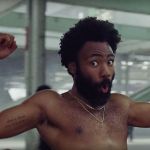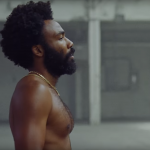 The images are a continuous alternation of bare-breasted Gambino who performs a mix of folk dances such as the South African Gwara Gwara (choreographed by Sherrie Silver) and scenes of violence in which the artist shoots and kills, only to end up running from only in the darkness, pursued by faceless characters. All the while echoing in the background verses such as
"We just wanna party, just for you" or "This is America / Do not catch you slippin 'up".
The 4 minutes directed by Hiro Murai, longtime collaborator of the star of Atlanta, are, in fact, a denunciation of the contradictions of the American nation and its pervasive rate of violence, especially among the black community. Multiple references to current affairs: police brutality, white supremacy and racialized violence, the lynching of black men, the protests of Black Lives Matter, the shooting of the church in Charleston in 2015.
The clear political connotation and allusions to violence against the black community of America present in the song and, above all, in the video have triggered various reactions in the users of social media. From Erykah Badu to Janelle Monáe, everyone expressed their esteem and commotion, even Trent Reznor, frontman of Nine Inch Nails, who interrupted an 18-month silence on twitter to talk about the song and wrote:
"I can't remember the last time I watched a music video all the way to the end, let alone one five times in a row. Incredible work! #ThisIsAmerica."

I can't remember the last time I watched a music video all the way to the end, let alone one five times in a row. Incredible work! #ThisIsAmerica

— Trent Reznor (@trent_reznor) 6 maggio 2018