Interview with Yxng Bane
The young English rapper reveals how all started for him and his plans for the future
During the shots of the new Diadora campaign we had a little chat with one of the protagonists, Yxng Bane, an up-and-comer on the English rap/trap scene, who with his hits Rihanna and Bestie reached the fortieth and tenth place oin the UK charts. Yxng Bane told us how everything started, what music and fashion mean to him, and what his plans are for the future.
#1 For those who still do not know can you tell us something about yourself, how it all started and what the Shape of You Remix it meant for you.
Basically my name is Yxng Bane, I'm from East London, I've been making music for two years. Everything happened very very fast, Bestie got the top 10, Rihanna got the top 40. Shape of You had made official remix. But Yxng Bane is more than just music, it's also fashion. I'm a big fashion head. I did London Fashion Week, I was walking for ww.wear. Fashion for me is like natural, it's because where I'm from - my parents are from Congo - and Congo has this big fashion culture, is like in Italian culture, to be fashionable is like natural.
#2 So let's talk about fashion. I can see that you are a guy who cares a lot about style. What are your favorite brands at the moment and how do you like to mix them together?
I have like my favorite ones, but I never try to limit myself. So for example right now I'm wearing some Diadora trainers I like them. I'm a big fan of Balenciaga, specially the clothing line is a vibe, I love the Triple S too I wore them before the shooting. I like the new Gucci stuff, the new season. I like Off-White, Virgil is really good. Also the collaboration with Nike. I got the Air Max 97, but my favorite one is Presto.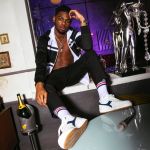 #3 Returning to music. There are so many different influences in your music, from afro swing, to trap, to dancehall. The dancehall influence has particularly struck me, Fine Wine is my favorite one among your songs. Do you have any special link to Jamaican culture?
Where I grew up is very like African and Caribbean vibe, there are a lots of Jamaicans. Many of my friends are Jamaicans, and growing up with them I started to speak like them. I learned new words and I started to say "Wa Gwan" naturally. (laughs)
#4 What was your reaction when you discovered you were in the UK top 10 with the single Bestie?
I was super happy cause I didn't expect it, but I immediately said to myself "ok let's do some more!". I'm so grateful and thankful to everyone who was involved and has made it possible.
#5 We know that your hit Rihanna does not refer directly to the singer but is a metaphor for all the bossy girls out there. With which female artist would you like to do a feature?
Maybe, Maybe… There's too many, I love them all. (smiling)
Ok let's do 3!
Cool! So, Rihanna, Adele, and Camilla Cabello.
I expected u to say Jorja Smith
Oh, Jorja Smith! I love her, Jorja knows I love her! Do you know Sabrina Claudio?
No honestly! I will search for her on Google
Sabrina Claudio, is cool listen to her!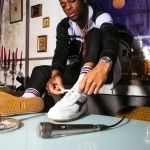 Thanks for the tip, I will definitely do it!
Sabrina Claudio… (Smile) no, no, really! Her music is really interesting, it's super chill, the ideal for the perfect relaxing mood.
#6 What plans do you have for the future, should we expect an album, a tour?
The tour is in March, a lot of music, new videos… Just more Bane everywhere, more of me everywhere. This year I just really want to be everywhere, I wanna to connect with my fans, and I want to come back to Milan and do Milan!