Grime officially has its own category on Spotify
And three new playlists: Grime Shutdown, Grime Classics and Grime Instrumentals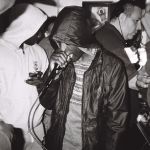 Are you fans of Stormzy, JME, Roll Deep or Skepta?
Fine! Now find the artists and favorite songs on Spotify will be much easier.
In fact, the on-demand streaming music service introduced the Grime category.
The reason for the decision? The hype and the growth of interest around the unmistakable sound of the United Kingdom that has crossed the indies boundaries conquering a wider and more global audience.
Via Twitter, the senior editor of Spotify, Austin Darbo, said that this news
"will make it easier for fans to find their favorite grime playlists".
Playlist that, for the moment, include Shutdown Grime, Grime and Grime Instrumentals Classics with pieces of songs by D Double E, Big Shaq, Frisco, Wiley, Tempa T, Skepta and many others.