5 things to do in Milan this weekend
June 30 to July 2
Summer is coming into its own. Already, every weekend, the city empties out during the usual Friday night exodus while, on and off, the sultry heat and cool wind decide the fate of those who remain in the city. Nevertheless, even with the most unbearable temperatures, Milan remains a city full of opportunities and pastimes and if the afternoon heatwave doesn't oppress you too much, it is almost certain that you will decide to explore its streets and surroundings. So here are our tips to fill, be that as it may, your weekend.
To Discover - Rainbow
A multi-disciplinary and transversal exhibition on a fascinating phenomenon that has intrigued every culture over time, taking on very different meanings. the exhibition will include objects from the collections of the MUDEC and the Museum of Natural History in Milan, works of ancient and contemporary art, and will also expand outside the rooms thanks to site-specific installations and a panel of lectures.
Via Tortona, 56
To Eat - El Porteño Prohibido
This restaurant in the Risorgimento area is an excellent compromise while waiting to leave for Buenos Aires. The Asado is the star of a menu where meat plays the main role, but it is above all the exciting live tango performances that will make your evening unforgettable. Of course, the price is commensurate with the high level of cuisine and entertainment, so budget at least 60 euros per person.
Via Macedonio Melloni, 9
To Shop - Mercatino Vintage Penelope
Penelope has a slightly different concept from other markets that take place on specific days of the month. This is a market-shop where you can go from Tuesday to Saturday from 10 am to 7.30 pm. Young and modern, it specialises in finding Vintage items, and boasts items from the 1950s to the 1970s.
Via Francesco Guicciardini, 6
To Club - Industrial Romantico all night long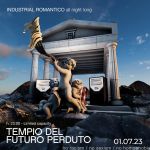 At the Temple of the Lost Future, an international and artistic initiative will come to life this weekend, featuring dance performances, lighting and photo exhibitions. It is not a club, but this inclusive socio-cultural centre is the perfect place for those who want to feel at home away from home while having fun.
Via Luigi Nono, 9/7
To Chill - Da Otto
This is an Italian reality in Milan's Chinatown, in Via Paolo Sarpi. The proposed formula is self-service. The offer is wide and ranges from a selection of wines and organic beer to no less than eight boards, eight squares, weekend brunch and sweet and savoury snacks. Everything is cooked the same day, fresh and with quality products.
Via Paolo Sarpi, 8