5 things to do in Milan this weekend
From 23 to 25 June
In the blink of an eye, we have already reached the penultimate weekend of June, the hottest so far - let's say even for now - but perhaps the richest in events and special initiatives. It would be stupid of us not to mention this Saturday's Milano Pride, this being what you are about to read an article dedicated to suggestions for your weekend programme, and so we take this opportunity to remind you that the parade will start on the 24th, at 3pm, in front of the Central Station, ending at 6.30pm in the Arco della Pace for the big final event. Before and after the event, you can follow our five tips to fill these upcoming hot days. See you there?
To Eat - Nepà
There are people for whom the heat takes away their hunger and sweet tooth, but that is not our case. This weekend, we suggest you try Nepà, a 100% plant-based bakery open until 7pm that offers delicacies of all kinds with a complete dedication to quality ingredients and inclusiveness. Curious, vegan or intolerant: there is something for everyone, in short.
Via S. Gregorio, 45 Milan
To shop - Le Carrousel
OK, Thursday has passed, we are a little late. But Sunset Market's initiative is too cute not to be mentioned among our weekly suggestions. If next Thursday, starting at 6pm, you feel like relaxing with your friends in the light of the sunset, with a cold beer in your hand and walking through cute little markets, then this is the place for you.
Cascina Cuccagna, Via Muratori Milan
To Discover - Rosso, Giallo e Giallo/Nero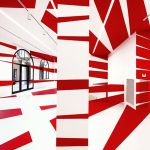 At first glance, it would appear to be one of those exhibition spaces created to take photos for Instagram, but this is not the case. With Rosso, Giallo and Giallo/Nero, artist Felice Varini tells a story of spaces and forms that goes beyond aesthetics in three two-dimensional pictorial installations. Visitors can 'walk through' the works, observing every detail closely and fully grasping their materiality.
Art, Corso San Gottardo 5, Milan
To Chill - Dirty Milan
Dirty Milano has only recently opened, but its reputation is already well established among aficionados. Brutalist-inspired, this bar offers its customers a totally unpretentious experience, from the eye-catching interior to the drinks themselves. It is the perfect stop to try something new and be pleasantly surprised.
viale Regina Giovanna, 14 Milan
To Club - Magnolia
This weekend the Magnolia returns to fill its spaces with music and events, also supporting the Pride on Saturday with a dedicated evening, A Night At San Junipero. A party for all ages, for the freedom of each and everyone.
Via Circonvallazione Idroscalo, 41 Milan