5 things to do in Milan this weekend
Friday 9 through Sunday 11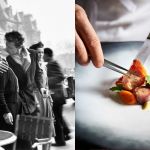 Between rainy mornings and sunny afternoons, summer has arrived in Milan. The best bon vivants are known to desert the city as early as Friday night to take refuge on some beach or mountainside, escaping the crowds of tourists and smog. Nevertheless, there are diehards who, like it or not, stay in Milan - and this 5 Things is dedicated to them.
Here's what to do in Milan from Friday 9 to Sunday 11.
To Eat – Verso
28 covers, a crazy location (after all, the Duomo is always beautiful) and behind the stove the duo of Mario and Remo Capitaneo. The formula for a crazy restaurant is really simple-especially since here the distinctions between dining room and kitchen are blurred, creating a single space where the skill of the chefs can be experienced just a meter from where you are seated. Perfect for Saturday nights, though it's only right to make reservations in advance.
Piazza Duomo 21
To Drink – Carico
For the South Milan crowd, Carico is a very special place since it is relatively small but cared for down to the most extreme detail. Even the ice cubes come from certified waters - they have really thought of everything. Beyond the mixology, which is creative and surgically precise, the innovative part of Carico's offering is the bistro, which therefore cooks but also offers tasting routes that will make you spend lovely evenings. Shout out at their cocktail martini to feel like New York even on Savona Street.
Via Savona, 1
To Club – Terraforma 2023
Well, no need to market this too much. Now in its eighth edition, Terraforma is now a fixture of the Milanese summer and has certainly been saving numerous weekends for years. With its programming, the festival perfectly covers the entire weekend so you can literally go whenever you want.
Buy tickets here.
To Discover – Robert Doisneau @ Chiostri di Sant'Eustorgio
Here is an amazing trick to do. Depending on the ticket you take, you can also have aperitivo in the Chiostri di Sant'Eustorgio in addition to the exhibition. If you have enough resourcefulness to take your date there, playing your cards right by going to this exhibition will make you look more original as well as give you those pleasant dark academia vibes that are always welcome.
Piazza Sant'Eustorgio 3
To Shop - Thrift Shop
Generic name, it is true, but there are some very delicate goodies to be found here-especially from the Y2K and 90s years. As with any vintage you have to search and look around however if you want to do business the method that helps the most is always time-consuming. So go and support the local vintage stores - this town will always need them!
Via Privata del Don, 2