In Naples TikTok became a reality show
A digital, portable and trashy version of the Neapolitan dramatization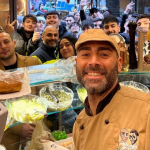 What do a grocer, a housewife, a shopkeeper, a fish seller, a wholesaler, another housewife, an ear of corn seller, a clerk, another housewife and a former caretaker have in common? They all live in and around Naples and have an average of a few million followers on TikTok, despite having no particular expertise. These are the faces of the strange and sometimes incomprehensible universe of Neapolitan Tiktokers, far from the appeal of Milanese or international content houses, very strong and incredibly close. According to a study by the Fondazione Città Identitarie, Naples is the most 'clicked' city on TikTok, with around 17 billion views under the hashtag #napoli. In the (few) comments on the news - such as this one from Il Mattino - the main praise is for tourism, which has returned to very high growth after a miraculous two years in 2018-19. However, there is perhaps one element that is underestimated, and that is the one related to the enormous number of Neapolitan tiktokers who, since the arrival of the pandemic, have begun to flood not only the region's inhabitants, but first the whole of southern Italy and then the whole of Italy.
The first to explode on 'Napoli TikTok' was undoubtedly Rita De Crescenzo, 'shameless' to those close to her. As Laura Fontana writes on Link: «Rita de Crescenzo became famous on TikTok thanks to an elaborate intro in which she announces herself, the climax of the celebration of a birthday or a first communion, with her unmistakable voice from the proscenium introducing her arrival: "Chiappareeella... snowflakeee...". This is the moment when the child's blindfold is removed and we see her eyes widen, more out of fear than surprise, and then she appears, Rita 'la svergognata', an overwhelming force of nature who climbs onto a makeshift stage and sings her hit: "O' bacin / O' culett / O' tacatà, o' tacatà / Po' rion / Svergognata!"». De Crescenzo has had a not-so-clear history: in 2017, she was arrested for drug trafficking with other members of the Elia clan, accompanied by her 12-year-old son, whose parental authority Rita has since lost. It's a story she continues to tell on TikTok even after becoming famous, taking on the contours of the grotesque and engaging in a real social battle with Antonio Borrelli, a former Naples city councillor who has also become famous on social media for his fight for legality. Rita De Crescenzo's success can be measured not only by the guests at birthdays and communions, but also by the opening of a 'Svergognata' shop selling the influencer's products.
It is precisely the success of Rita De Crescenzo that, over time, has opened our eyes to another, more disturbing side of the platform: the presence of ex-clan members and criminals of other ranks who, with millions of likes, deviously change the narrative around individuals. In this sense, TikTok has become the medium of choice for a certain kind of 'propaganda': Marcello Ravveduto, Professor of Digital Public History at the University of Salerno and the University of Modena and Reggio Emilia, spoke to Fanpage about this, clarifying that «Facebook is now like a generalist TV. Instagram is like flipping through a magazine. TikTok is the reality show: it gives you the opportunity to tell your world without an intermediary and in the first person. Here, the social cast, the show itself, is fully developed. For the first time, these people tell their own stories, they present their world themselves. TikTok, unlike the others, presents itself as a content platform rather than social. It is a communication channel».
TikTok's ability to be a content channel rather than a simple social medium of self-promotion and self-exaggeration is also one of the reasons for its meteoric success in Naples. Unlike Instagram and the glamorous veneer it has taken on in recent years, TikTok in its most primal form is essential, simple and allows for a glorification of trash that no other channel can offer. Very and Sasy, anagraphs Veronica and Salvatore Borriello from Secondigliano, are aware of this. They monopolised 'TikTok Napoli' during all stages of the pandemic - and afterwards - with a kind of soap opera that also involved their eldest daughter Carmen and her boyfriend Kekko (who was later imprisoned and is now free again), and went viral after admitting to working illegally and drawing citizen's money. Both Rita De Crescenzo and Very and Sasy then took their popularity to another social network, YouTube, where they elaborated the 3.0 version of the Neapolitan neo-melody - the trashier and more vulgar one - by reproducing their catchphrases in song form and saving millions and millions of views.
Then there are the platform's most beautiful stories, including those of Lino Orso or Salvatore Pingù, who from nothing were able to improve their lives through TikTok, or especially that of Donato De Caprio, the most famous salumiere on TikTok with the reputation of 'with crumbs or without' and now known outside the TikTok Napoli bubble. Donato is one of the most exemplary stories of how TikTok Naples has managed to set in motion mechanisms that are absolutely unprecedented in the history of social networks and that go beyond the simple meaning of 'going viral'. Donato was initially a long-time employee of Latteria Ai monti lattari, an institution in one of Naples' most central and popular neighbourhoods, Pignasecca. Donato's success was based on a very simple shot and the constantly repeated question to the customer 'with or without breadcrumbs?' For Neapolitans, this is a mechanical process, but for the younger people who asked Donato for a video greeting, it led to instant success. A modus operandi that did not please the deli owners, who asked Donato to stop making videos so as not to disrupt the smooth running of the shop. Since then, the most successful story in all of TikTok Italia has been set in motion: Steven Basalari - the owner of the Number One discotheque in Brescia - contacted Donato and offered to finance the opening of his own sandwich shop, Con Mollica o Senza, which opened a few weeks ago 100 metres from the Monti Lattari.
But the stories of Tik Tok Napoli are certainly not over: there is that of Mister Pella Pazzo, Lorenzo Delle Femmine, who ended up on Rete4 after showing earnings on TikTok of 10 thousand euro a month despite living in a council house in Casalnuovo, or Newmartina, who went viral for his peculiar way of fixing scratch-resistant films on iPhones. And the list could go on with the war of the ears of corn, the war of the parisians (a particular type of Neapolitan pizza by the slice) or Patrizio's hot dogs and even Gigino's 'Buongiorno Pescheria', up to the forays into the world of clothing of Raffaele Miranda - the Neapolitan alter ego of Andrea Liconti. To draw up a definitive and complete list of the members of TikTok Napoli is almost impossible. To do so, however, would not answer the question: why? Before trying to answer this question, a clarification is needed: what is defined as TikTok Napoli does not involve other types of creators, more 'classic' and canonical for the platform. From Miriam Landi to Silvestro Baffo, "La Lupa", Matthew or Fius, creators whose success is absolutely understandable and is part of the platform's own dynamics, and which is reflected in many other cases outside of Naples.
The members of TikTok Napoli are not exactly creators, they are not able to create decent transitions or edit catchy videos. They all turn on their smartphone's internal camera and film their lives, perhaps exaggerating a few aspects, but not that much. So why are we so absurdly drawn to these unenviable lives that are, in some ways, so far removed from us? There are two main reasons. The first reason is that the people who have made these names so viral are not so different from the lives they are being told about. And this is because the spread of Tik Tok was much more capillary and unstoppable than other social media. Pier Luca Santoro writes in Repubblica: «The 18.3 million monthly users represent almost 42% of the total number of those who used the internet in our country in November 2022. And just under half (47.3%), without overlap, of all those who used a social platform in November last year. The proportion of time spent was also significant, although lower than the previous month. Suffice it to say that among the most visited categories was search, which has a penetration rate of 95.1% and to which an average of 2 hours and 55 minutes were devoted, while people spent an average of 4 hours and 31 minutes on TikTok during the same period, even more than on email, for which the monthly time was 4 hours and 28 minutes.» Especially in some social areas, TiKTok has literally replaced every other entertainment medium, including TV. And this brings us to the most important point of the whole story.
The show broadcast by TikTok Napoli is nothing but a digital, portable and trashy version of Neapolitan dramatisation. A format that has always worked well, both in Maria de Filippi's production of C'è Posta per te and in its cultural realisation. The absurd and almost exotic life of Neapolitans 'sells', especially in a cultural moment when - on a completely different level - the city's brand, the Napoli brand, works more than ever. TikTok Napoli is nothing other than the popular and shameful degeneration of a city that constantly and exaggeratedly lives the dichotomy between high and low and is able to influence the rest of Italy, whether we are talking about music, cinema or simply a TikTok video.