Louis Vuitton will open its first hotel in Paris
The building will be part of a project that will engage LVMH for about 15 years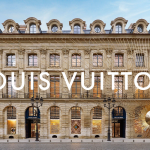 Parent company LVMH Moët Hennessy Louis Vuitton has radically transformed the Pont Neuf neighborhood in the past 18 months with the unveiling of the renovated La Samaritaine department store and Cheval Blanc hotel and the opening of the first Paris branch of its Italian patisserie, Cova. In an interview with WWD, the chairman and CEO of the French luxury brand revealed plans to transform Louis Vuitton's corporate offices into a vast complex that will include the world's first Louis Vuitton hotel and its largest store worldwide. A transformation that will involve giving up his office with its sweeping views of the historic center of Paris.
He also revealed that Bernard Arnault, chairman and CEO of the world's largest luxury conglomerate, is only getting started with plans to attract more offices, stores, housing, restaurants, and cultural activities to the area. «My dream was to create a revival of the original Paris mall,» Michael Burke said. «It was always Bernard's vision, and we are halfway there. It will take another 10 to 15 years to get it where we think it should be». The plans reflect the growing push by fashion and luxury brands toward hospitality as consumers are willing to pay more and more for experiences. «That's what our customers want from us. They want a 24/7 relationship», Burke said. The space is not scheduled to open to the public until Dec. 12. The 20,000-square-foot space, which will be open for one year, will host an exhibition highlighting the brand's collaborations with artists, a gift store and a café and chocolate shop run by Maxime Frédéric, head pastry chef at Cheval Blanc Paris.
The store occupies a commercial space, located inside the Vuitton building, that formerly housed a Conforama furniture store. For nearly a century, in truth, the building housed La Belle Jardinière, a department store famous for affordable clothing. Together with La Samaritaine, it turned the area into a magnet for shoppers in the second half of the 19th century. «Ultimately, Vuitton's largest store will most likely be where this event opens», Burke said. It will be a work in progress for the next 10 years. «The exhibition space is for one year, and next year we will do something else. And eventually, probably most of this 400,000-square-foot building will be something other than an office» he added. The executive reported that LVMH does not fear that a future Louis Vuitton hotel would cannibalize the Cheval Blanc. «It would be a project with its own identity, its own segment, and its own service: a completely different experience» - he said - adding that he hopes to open the hotel «within five years».